Weinstein im Brikz
This post is also available in: German
Poetry Slam bei Arne Anker
What if Weinstein was on the lookout for hops? Then we would call the anchorman and know that it's eat! berlin again. Because we connect cultures. We feature opera on a regular basis, and we've also included readings, drama, and songs in our festival lineup.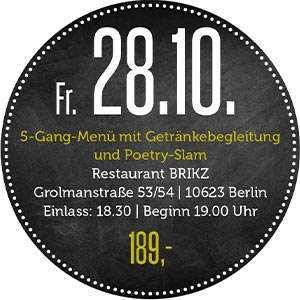 We're now widening our horizons to embrace the poetry slam discipline. We intend to accomplish this with none other than Marvin Weinstein, who made the staff at our festival laugh like no one else, particularly with his text on sense-seeking hops and wise Altbier. We see Weinstein as a true landmark in this brick-walled room, which the proprietor has dubbed "Restaurant Brikz," which is simply a verbalization of the English term bricks. So bricks.
Our culinary rock on the coast is Arne Anker. We got to know and love him in the "Pauly Saal". He was awarded a Michelin star there, but we believe he cooks at the 2-star level. Sergio Hermann, one of the top chefs on the world, discovered and shaped his incredible gift. Gault&Millau granted him 20 out of 20 points, making him one of only two cooks in the world to do so. This evening, Arne prepares a delicious five-course meal. Weinstein convincingly argues that you may have alcohol without having fun, but there will also be a non-alcoholic beverage accompaniment prepared by Arne in addition to the wine of the excellent winemaker xxx.
Marvin Weinstein, Arne Anker and XXXX… what a crazy, but above all funny combination. This evening would have to be invented if it didn't already take place at eat! berlin.
Fr. 28.10.
5-course-menu with accompanying drinks and poetry slam
Restaurant BRIKZ
Grolmanstraße 53/54 | 10623 Berlin
Admission: 6.30 pm | Start: 7.00 pm
189,-