The Best for Last
This post is also available in: German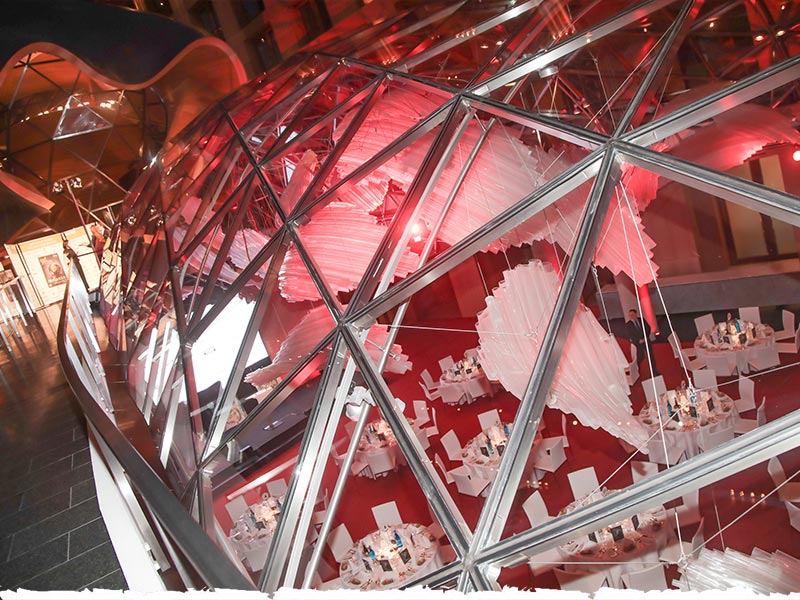 AXICA © Christian Kielmann
The Closing Gala of the eat! berlin
We can confidently state in 2022 that we don't know anything. That was known long before us by Socrates, Cicero, and Plato. We have simply forgotten about it. Pandemics, wars, and other disasters have served as clear reminders. We're reflecting on previous years this evening, but most importantly, we're looking back on this incredible year. Our event was supposed to take place in June, but when the war in Ukraine broke out, our plans were thrown off. How can you put on a gourmet festival when only 3 kilometers away mothers are arriving with their children at Berlin's main train station with nothing to eat or drink? As a result, we postponed our festival until the fall, collected funds, commodities, and volunteers, relocated to the Abion Hotel's production kitchen, and began a relief action. We were able to assemble between 2,000 and 3,000 sandwiches per day, as well as purchase and collect a large amount of water, candy, and food, thanks to the support of our network. We were blown away by how willing our customers and restaurants in Berlin were ready to assist us. A South Tyrolean manufacturer, for example, provided 44 pallets of crispbread, pastries, and other non-perishable items. Even if it was a borderline human experience for many of us, the festival's postponement was well worth it.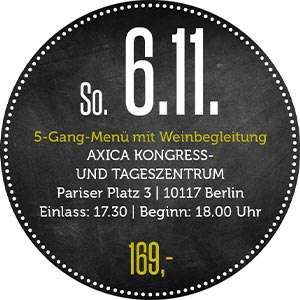 Despite all of the tragedy that has plagued us in recent years, we have not forgotten how to celebrate. That is why the focus of this evening should be on fun and joie de vivre. We were fortunate enough to be able to cast fantastic actors.
The chefs of the house, Wolfgang Keller and André Steuer, will open the evening with a greeting from the kitchen. AXICA is not just a spectacular event venue, but also a fantastic and sustainable catering company.
When we visit the Baltic Sea, one of our go-to chefs is Tom Wickboldt *. He is arguably Usedom's most talented chef. In fact, he received a star for his restaurant Kulmeck in Heringsdorf almost immediately.
Until this day, Steven Zeidler * is the only chef who has been awarded a star in Berlin. The restaurant Bricole managed by Fabian Fischer is now the pride of Prenzlauer Berg, since no other restaurant in this district has recieved this award
Dennis Melzer is one of the greatest talents of fine dining gastronomy. He delegated the sous chef job to Joachim Wissler ***, one of Germany's top chefs, for a gastronomy project at the Ku'damm. The opening of the restaurant amided considerable excitement, but it turned out to be a one-hit wonder. It closed soon after it opened, resulting in the loss of a great chef for Berlin's gastronomic landscape. This unfortunate situation is more than enough of a reason for us to invite him back to town for our gala.
Andreas Staack also left Berlin, but stayed nearby. He used to run one of our favorite restaurants, NOI Quattro. Today he cooks wonderfully light and focused seasonal cuisine at his restaurant AS am See in Bad Saarow. We remembered Andreas, especially for his great desserts. Therefore, we are very pleased that he will prepare something sweet for us to enjoy this evening.
Once again, our closing gala will take place in the Forum of the AXICA event location designed by star architect Frank O. Gehry. This unique location has a lovely aura that we adore. In addition, when our non-Berlin guest chefs and winemakers arrive, they are always blown away. "It's the best thing I've ever done," Frank O. Gehry declared, and we agree.
Since we are inviting such great guest chefs in such a great location, we must have fantastic winemakers. Our collaboration with the Verband deutsche Prädikatsweingüter VDP (Association of German Predicate Wine Estates) plays a role here as well. We are pleased to welcome you at our event:
Su. 6.11.
5-course menu with accompanying wines
AXICA KONGRESS- UND TAGESZENTRUM
Pariser Platz 3 | 10117 Berlin
Admission: 5.30 pm | Start: 6.00 pm
169,-