Those Long Schwabing Nights
This post is also available in: German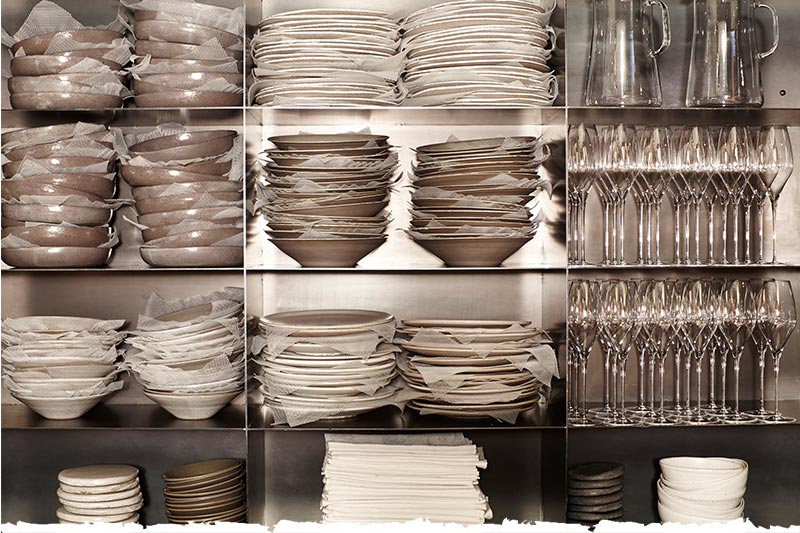 Tantris at Kreuzberg´s Nobelhart & Schmutzig
Hans Haas (three toques), the widely revered two-star chef from Munich's Tantris restaurant, will be visiting the visionary of the Berlin gastro scene, the wildly creative and original Billy Wagner of trendy Nobelhart & Schmutzig (one Michelin star). On paper, this looks like a collision of contradictory worlds. Yet the two have a lot more in common than you'd think. The Berlin sommelier is a tremendous admirer of Haas, who started focusing on regionally inspired cuisine all the way back in 1991. Billy Wagner has also been an acquaintance of Felix Eichbauer, the current director of Tantris, for many years. The Munich fine dining establishment set modern German gourmet cuisine into motion 46 years ago. Host Billy Wagner's Nobelhart & Schmutzig, working with chef Micha Schäfer (two toques), not only laid out a similar "vocally local" philosophy, but also drove their daring concept to a world-class level.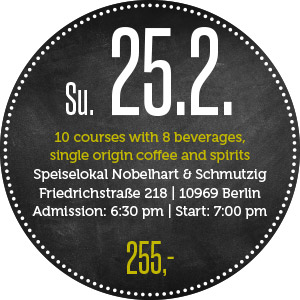 So less a collision than a meeting of like minds: The kitchen team at Nobelhart & Schmutzig will be welcoming Hans Haas and his sous-chef Sigi Schelling for a special evening in Berlin. Together they'll be presenting a menu that perfectly combines the French-inspired cuisine of Tantris with the new German cuisine of Micha Schäfer, for whom it is not just a point of honor, but a life mission to know every supplier and producer personally.
The founder of Tantris, a developer named Fritz Eichbauer, loved gourmet French cooking and was annoyed that Munich didn't have any restaurants to scratch his itch.
In 1971 he commissioned Swiss architect Justus Dahinden to design the restaurant. Today that edifice is historically protected. Eichbauer convinced Austrian chef Eckart Witzigmann to manage the kitchen of this stylish and unusual new establishment. Just three years later the restaurant already had two Michelin stars. "Tantris shaped multiple generations of cooks and restaurateurs," gushes Billy Wagner, who stands in awe of Eichbauer's consistency. Eichbauer´s favorite quote: "I could have taken all the money I've sunk into Tantris and bought myself a castle. But then where would I have eaten?"
For Billy Wagner, the encounter with the Eichbauer family was unforgettable for other reasons as well: "I first got to know Felix, the younger Eichbauer, while visiting Dominik Huber, a former potager from Munich who was now running the Terroir al Limit estate in the lovely Catalonia district of Priorat. My experience with the wines there represented a Eureka moment for me, when a fundamental part of my understanding of wine fell into place." You have to pay attention to where the grapes grow, he says, because good wine can only come from good soil. "Our wines have to be fine, deep and animating, and complexity is welcome too," he feels. "But they should taste good, and drinkability also plays an enormous role."
The binds between the Berlin and Munich factions were further deepened when the Eichbauers purchased the Podere Salicutti estate from well-regarded enologist Francesco Leanza. They had been customers of the estate for decades, as had Billy Wagner, who had prized its exceptional brunelli since his earliest days as a sommelier. And so: eight wines, including two wines from Podere Salicutti, to accompany the planned ten-course menu.
A note to guests: Please be sure to let the hosts know of any allergies or sensitivities in advance. And, if for reasons all your own, you wish to abstain from beer and wine, the hosts are happy to provide quality alcohol-free beverages instead. The evening will take place around Nobelhart & Schmutzig's fabled counter and great table. Spots will be assigned based on when payment is received.
Su. 25.2.

10 courses with 8 beverages, 

single origin coffee and spirits

Speiselokal Nobelhart & Schmutzig 

Friedrichstraße 218 | 10969 Berlin 

Admission: 6:30 pm | Start: 7:00 pm

255,-