Soulkitchen
This post is also available in: German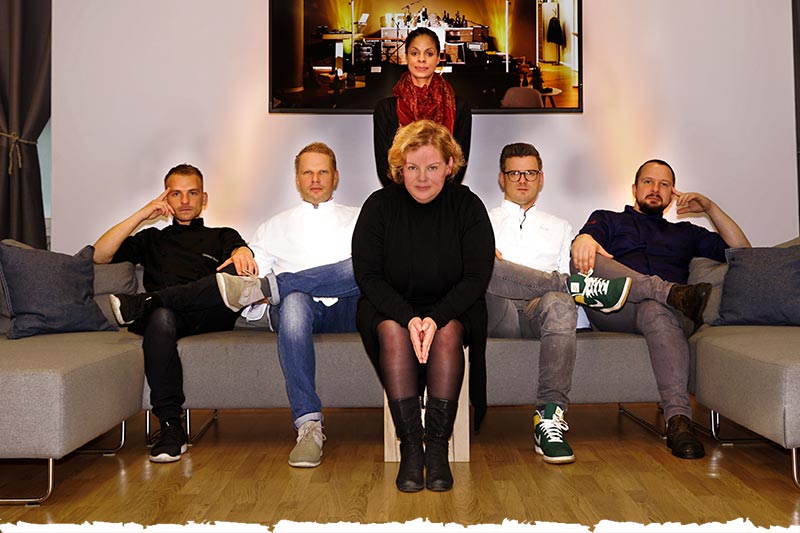 Fete de la Cuisine at einfallsreich
You will always find me in the kitchen at parties – Jona Lewie famously sang back in the 80s. He was right. The best spot at events and soirées really is the kitchen. Every guest eventually swings by to get some food and drink. Position yourself near the source, and you get to meet everyone and catch a bit of every conversation. Why not just move the whole concert into the kitchen, mused Katja Grünebaum, a passionate event organizer. Not long after she started inviting bands and singers to appear at her trendy event location in Charlottenburg.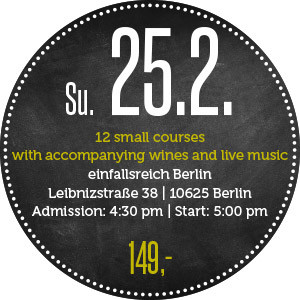 Her space einfallsreich can host rough-ly 70 guests, all with a view of the industrial-grade kitchen. It's a relaxed place to meet some of the stars of the New Berlin Cuisine, each of whom on this night will be treating guests to a dish. Definite yeses include Michael Kempf (three toques) of Facil, Arne Anker (two toques) of Pauly Saal, Matthias Gleiß (three toques) from Volt, Christoph Hauser (one toques) from Herz & Niere Restaurant Michael Schulz from Golvet and Tobias Gunter from Strandbad Mitte, already a familiar face at einfallsreich. Desserts will come courtesy of Kai Michels whose Pâtisserie Jubel deserves every ounce of the tremendous praise it receives, and cheese guru Fritz Lloyd Blomeyer, who supplies the Berlin gastronome market with artisanally produced German cheeses.
"Things are going to be completely relaxed," says Katja Grünebaum. "No seating plan, no reservations. We want the guests to simply make themselves at home in our space. The evening will be about the joy of excellent foods, and about fantastic people from the restaurant scene and their stories. The spotlight will be on good moods and lots of music." Hostess supreme Katja Grünebaum has elicited a trio of consummate professionals to assist with the wine and service: Gunnar Tietz (Grand Cru Select), who many will remember from his time as head sommelier at First Floor; David Arnold, who runs a wine agency by the same name; and experienced sommelière Silke Gau from the French-centric Restaurant Lamazère. A few surprise guests from Berlin's gastro scene can also be expected.
Songwriter Fabian Haupt, who set the mood musically at last year's kitchen party, and Astrid North, the ex-singer of the Cultured Pearls and one of the loveliest soul voices in Berlin, will keep spirits high. As the hour grows late, DJ Jan will lay down dance music – the only canned thing from the whole evening, we promise!
Su. 25.2.

12 small courses 

with accompanying wines and live music

einfallsreich Berlin

Leibnizstraße 38 | 10625 Berlin 

Admission: 4:30 pm | Start: 5:00 pm

149,-