A Tight Pair
This post is also available in: German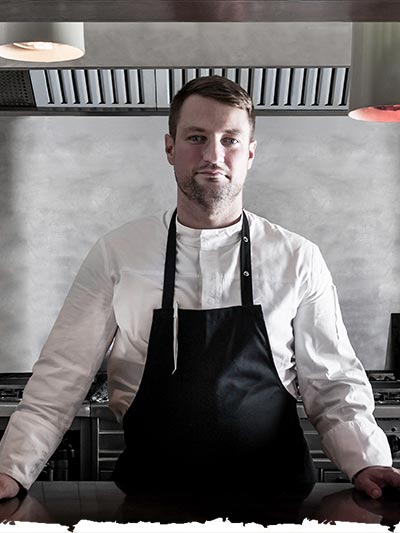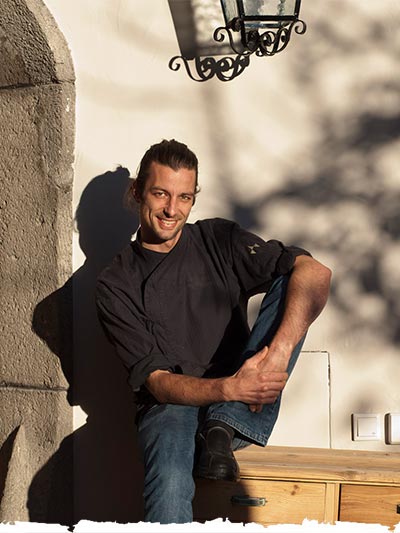 Sebastian Frank and Franz Meilinger
Two Austrian chefs, two personal histories – and one friend-ship. Sebastian Frank (three toques) and Franz Meilinger became acquainted over a decade ago. They were both working at Steirereck, a famous 2-star Viennese restaurant ranked number 10 on the list of the "World's 50 Best Restaurants." Sebastian Frank was Chef de Partie, responsible for the cold dishes. Franz manned the fish station. The friendship quickly blossomed. "The harder you work together, the closer the bonds that are forged," says Sebastian Frank.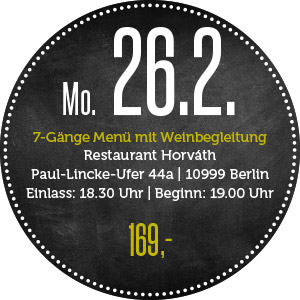 eat! berlin thinks these two best friends belong together behind the stove. And so: Sebastian and Franz will be preparing a 7-course menu for us at Restaurant Horváth. Naturally traditional Austrian dishes play the main role: "The products from the region around the High Tauern, where Franz came from, will be a primary focus for us," Sebastian Frank reveals.
Horváth sommelier Jakob Petritsch will be serving up beverages to accompany the meals – unsurprisingly, with a focus on wines from Austria. It should be a fascinating list, with well-known estates joined by a variety of young talents Petritsch has been scouting.
Frank and Meilinger never lost sight of each other, even as their paths diverged after their stints at Steirereck. Sebastian Frank headed off to the wilds of Berlin in 2010, for love but also more. He scored his first job there as head chef at the well-known Restaurant Horváth. His unusual interpretation of traditional Austrian fare earned Frank a wave of critical praise, and the first Michelin star followed a year later. Together with his life partner Jeaninne Kessler, he bought the well-known restaurant on Kreuzberg's Landwehrkanal in 2014. A second Michelin star came in 2015, followed by the declaration in 2017 as "Berliner Meisterkoch."
After stops in Bavaria and Singapore, friend and colleague Franz Meilinger eventually returned to his parent's guest house in the Salzburgerland. He and his family have just finished a complete renovation of the 900-year-old building, which had also housed a youth hostel. In mid-2017 the Weyerhof reopened with a spiffy new shine that turned the simple lodgings into a handsome country hotel with extraordinary rooms. Given Franz's presumptive status as the finest chef in the region, it's no surprise that the Weyerhof grew into a culinary hot spot known far and wide. In its cozy restaurant, Meilinger prepares modern, authentic tavern fare — intentionally regional, sustainable and of the finest quality, with many herbs from the restaurant's own garden, honey from their hives and homemade bread.
"We talk on the phone two or three times a month," says Sebastian Frank. "Sometimes Franz asks me about a recipe, or where you can get a good bite to eat in Barcelona." Once a year when the restaurants take their respective holiday breaks the Berlin chef visits his friends in the Salzburgerland and brings the kids skiing. And at some point Franz Meilinger and Sebastian Frank end up behind the stove together. The preparations for their joint menu will be forged in early February there at the Weyerhof. The celebrated Berlin chef smiles at the thought of it: "We're debating right now whether we ought to cook for the local press at the same time, a bit of marketing for the grand reopening." Between best friends, things like that are no big deal.
Mo. 26.2.

7-course menu with wine 

accompa-niment, aperitif, water and coffee

Restaurant Horváth

Paul-Lincke-Ufer 44a | 10999 Berlin

Admission: 6:30 pm | Start: 7:00 pm

169,-