This post is also available in: German
CULINARY BERLIN AT "MAMPES NEUE HEIMAT"
Friday, March 3, 2017, 7 pm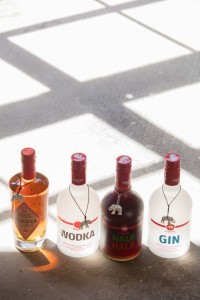 MAMPE is Berlin, and has been for over 160 years. As one of the city's oldest liquor markets, MAMPE represents more than just an outlet for fine spirits. It stands for an unbelievable history, and countless stories. It's also been a willing co-conspirator in generations of Berlin wit — in our grandparents' time Berliners joked that you could save the money of going to the optician by visiting Mampe. You'd soon have a good reason for seeing double!
That booze-abetted doubled vision is the origin of the term "Schnapszahl," or 'Schnapps Number,' in German, referring to a repeated number like 22 or 555. As Germans are generally a superstitious lot, many time their celebrations to fall on Schnapszahl dates, as they are considered to be lucky.
So what could be luckier than a culinary event with lots of high-proof surprises on the evening of 3/3, with precisely 44 guests for tickets costing 111 euros?  This much we can reveal: The digits 11, 22 and 33 will work into our plans.
Even if the venue we've chosen is strongly specialized in liquid pleasures, the evening itself is first and foremost focused on eating and the overall culinary tapestry. Alongside drinks and spirits created by our hosts MAMPE specially for this event, there will also be reinterpretations of classic Berlin cuisine at the finest level. The 5-course journey through the kitchens and recipe books of the city will be accompanied by matching wines, as befits a locale like this one.
The location should come as no surprise. MAMPES NEUE HEIMAT is not just an authentic spirits producer, but also a place that breathes Berlin history. With massive old-school ceilings that stand as tall as a house, giant windows and classic brick masonry, the space is perfect for the evenings events. You'll certainly feel the spirit of Berlin — both alcoholic and cultural.
And do remember: to ensure that our guests arrive home safe after what is certain to be a spirited event, please leave your car at home! We suggest the ROCVIN limousine service, which you can book together with your ticket.
5 course menu including wine pairing and 3 special MAMPE-Drinks
open doors 6.30, start 7 pm
Tickets: 111,00€
Mampes Neue Heimat, Am Tempelhofer Berg 6, 10965 Berlin