OH BROTHER
This post is also available in: German
A CELEBRATION OF BROTHERLY LOVE AT AXICA
Tuesday, February 28, 2017, 7 pm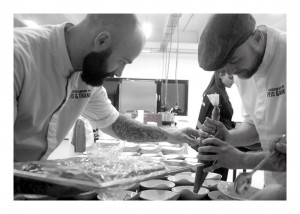 Much of our festival is inspired by highly personal stories. We create events based off things that our festival director has personally experienced on his travels; invite chefs who have impressed him; and re-tell stories that have captured his attention or imagination. And yet none of those stories is as personal as this one:
Bernhard Moser is a chef. Back in the early 90s he stood alongside his big brother Andreas in the kitchen. The older sibling was naturally the chef de cuisine, while junior handled the sweet dishes as the pâtissier. They were an ambitious pair and it made quite a splash when the Gault&Millau restaurant guide rewarded the duo's efforts with its coveted toque symbol. The Moser brothers were soon regarded as favorite sons of the Salzburger Land.
Andreas passed away this last year, and his little brother now wants to dedicate an event in his honor. So, on this evening we'll be celebrating brotherly love: brothers Matthias and Stefan Eggert will be cooking for us, brothers Achim and Lukas Bicking will pick our wines, and who knows who else will grace our table on this fine evening.
The owner of the venue, the DZ Bank, is itself mother of two famous siblings, the Volksbank and Raiffeisen banks. And so we'll spend this evening at AXICA, directly at the Brandenburg Gate. Note the building's architecture as you enter, with the impressive plenum by star architect Frank O. Gehry. This backdrop — and the highly professional yet congenial event service from the AXICA team — has made the restaurant into one of the city's most fascinating event locations.
And if you've got a brother, don't you dare forget to invite him!
5 course menu including wine pairing
open doors 6.30 pm, start 7 pm
Tickets: 119,00€
AXICA Kongress- und Tagungszentrum, Pariser Platz 3, 10117 Berlin