This post is also available in: German
HIROSHI NUMATA AT JOLESCH
Tuesday, February 28, 2017, 7 pm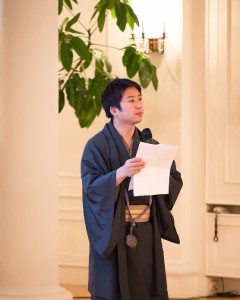 We recommend — at least once in life— tasting for yourself how well German Riesling pairs with Asian food. Especially Rieslings with a touch of residual sugar. While this has become common knowledge in recent years, its liquid corollary has largely escaped the public eye: Japanese sake harmonizes beautifully with Central European cuisine, especially traditional Austrian dishes. In fact, the biggest surprise to Westerners is probably less the pairing and more the realization of just how diverse and versatile sake can be. It's not an exaggeration to compare it to the worlds of wine or beer.
But why just take our word for it: Hiroshi Numata is known as one of the world's best and most distinguished sake sommeliers. He claimed silver at the "Sake Sommelier Championship 2014," organized by the Sake Sommelier Association. We're extremely honored to have him take part in eat! berlin 2017. Mr. Numata speaks only Japanese and English, so we've arranged for an interpreter for the evening.
When it comes to Austrian cuisine, Jolesch is our address of choice. Renate Dengg and Max Setrak have been managing this Kreuzberg restaurant and its rich tradition since 2009. Executive Chef Tobias Janzen melds traditional Austrian recipes with modern stylings. Because much as we all love Wiener Schnitzel — and we do! — the alpine country has more to offer than just one dish.
We're excited to see what Numata and Janzen come up with for this evening. Get ready to be enchanted by a highly underrated, extremely complex drink, and by the terrific atmosphere at Jolesch. As zitty once opined: "Being at Jolesch gives you the feeling that books are being written. Literary masterpieces and fantastic short stories. Just like in the coffee houses of Vienna between the great wars."
4 course menu including sake pairing
open doors 6.30 pm, start 7 pm
Tickets: 79,00€
Restaurant Jolesch, Muskauer Straße 1, 10997