THE TAGESSPIEGEL-GENUSSABEND
This post is also available in: German
A BLIND DATE WITH CHEFS AND WINEMAKERS
Tuesday, February 28, 2017, 7 pm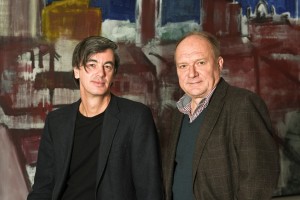 Bernd Matthies and Kai Röger are among Berlin's most influential food journalists. Matthies writes well-regarded restaurant critiques and has probably forgotten more about the Berlin food scene than most people will ever know. Röger served as Editor-in-Chief of "zitty" back during its heyday, and today is the leading force behind the grandiose "Tagesspiegel Genuss" magazine. The special edition magazine from the "Tagesspiegel Verlag" immediately became a bestseller upon launch. Not least because it features outstanding, intelligent wine columns and spot-on trend and restaurant reports.
When we started the "blind date" project with Matthies and Röger a year ago, even we were astounded at how quickly the evening sold out, given that we were intentionally holding back the details. You could view this as proof that Bernd Matthies, Kai Röger, the Tagesspiegel and perhaps even eat! berlin have come to enjoy a bit of blind faith.  Attendees were in for a fine surprise: a meal from noted chef Marco Müller (likely to have 2 stars and 18 points very soon) and 2-star chef Christoph Rainer from the Tigerpalast in Frankfurt. They paired up for a brilliant menu that left the guests swooning.
Andreas Barth from Weingut Lubentiushof did the wine duties. His delicate Mosel wines, still and sparkling, proved the perfect pairing for the light and entertaining evening at Schmelzwerk. Where a bit more power was needed, Count Philipp von Thun provided reds from his "Comte de Thun" estate. His Syrah, Cabernet Sauvignon and Merlot blends are counted among the finest found anywhere in southwestern France.
But enough looking back. What lies ahead? Who will be cooking? Who'll be presenting wines? We're not telling.
But we are willing to say that the venue will once again be Schmelzwerk in the Sarottihöfen. World-class chef Markus Herbicht will certainly be called upon to kick off the menu with a bang and otherwise play the perfect host.
2 winemakers, 2 cooks, 6 course menu
open doors 6.30, start 7 pm
Tickets: 129,00€
Schmelzwerk in den Sarotti-Höfen, Mehringdamm 55, 10961 Berlin