Monsieur Rugueux
This post is also available in: German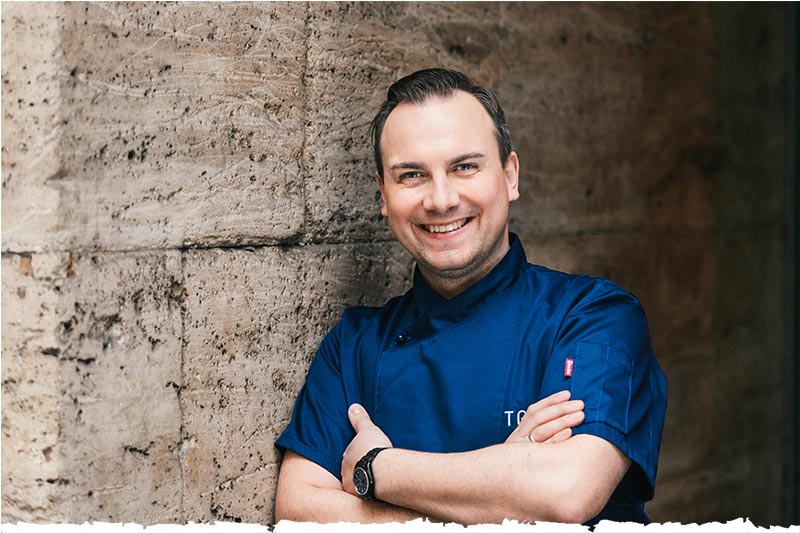 A Threesome with Tim, Part 2:
Tim Raue's Haute Cuisine at Colette
French haute cuisine in an unpretentious brasserie? More plausible than you'd think, as for one special evening Tim Raue (four toques) and his head chef Dominik Obermeier will be presenting a multi-course dinner at Brasserie Colette Tim Raue. The contrasts and seeming contradictions are an inherent part of the concept for the two-star Berlin chef, who grew up in a Berlin where people like to say: "If I haven't heard of it, it doesn't exist." For Germany's most famous chef on the international stage, the evening offers the perfect opportunity to celebrate his interpretation of French haute cuisine. "At the start of my career I visited countless outstanding star restaurants in France. It was a highly formative time for me, and they made a lasting impact on my own work," Raue explains.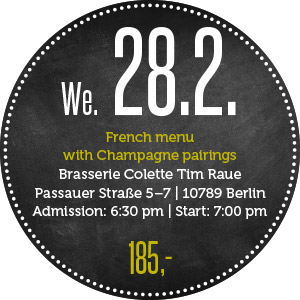 The individual courses will be accompanied by the finest of all sparkling wines: select grower Champagnes from choice maisons such as Jacquesson, Vouette & Sorbée, Laherte Frères and Egly-Ouriet. The Champagnes will be presented by Sebastien Visentin and his team from Vin sur Vin, the Berlin specialists for French wine.
Haute cuisine was not the only element of French culinary practice that impressed Tim Raue. Everyday French cooking as found in the Brasserie Colette drew his attention as well. The brasserie is a hybrid French establishment, and a culinary locale for all occasions.
The range of dishes are typically more extensive than at a bistro, but less exclusive than at a restaurant. The cuisine at a French brasserie is thus quintessentially middle class, yet executed at a high level. One can expect a menu filled with items like onion soup and fried steak – the classics of French cooking – always accompanied by a plat du jour, a fresh daily specialty from the season or region. The service is attentive but less formal than in a restaurant. A brasserie is ideal for a lunch with business partners, for a beer and appetizers with friends after work, or for souper after the theater.
The idea of fine cuisine in a casual setting was at the forefront of Raue's mind when he opened Brasserie Colette Tim Raue in 2016 on the premises of the Tertianum senior's residence, right around the corner from the KaDeWe. He and his head chef Steve Karlsch have also brought Raue's Brasserie Colette and its concept to the other two Tertianum locations in Munich and Konstanz. In typical Raue fashion, the restaurants share a common thread, but each have their own unique presentation: Elegant and yet comfortable, with a sense of detail, such as the wooden benches from old railroad carriages placed across from a dark bar, sheer marble tables, and simple yet lovely tableware and cutlery.
We. 28.2.

French menu

with Champagne pairings

Brasserie Colette Tim Raue

Passauer Straße 5–7 | 10789 Berlin

Admission: 6:30 pm | Start: 7:00 pm

185,-