A Feast for the Yeast
This post is also available in: German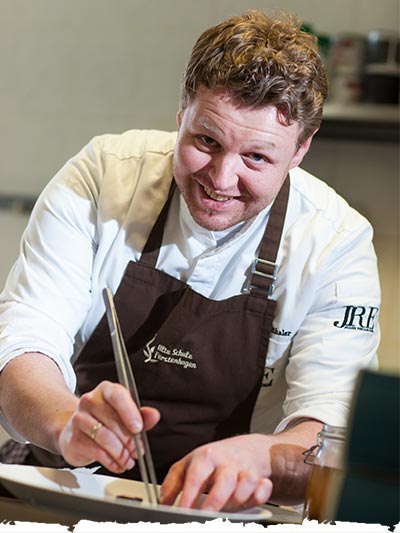 Daniel Schmidthaler Cooks a Menu for the Microorganisms
We're all clear on just how much yeast means to us, right? With-out yeast there'd be no bread, no wine, no blue cheeses and no spirits. For millennia, the microorganisms have helped us humans eat more efficiently. Yeast can ferment starches and sugars, and during cooking and baking it produces carbon dioxide that makes wheat products such as bread easier to digest. One side benefit discovered over 5000 years ago: liquid fermentation relies on yeast to produce alcohol.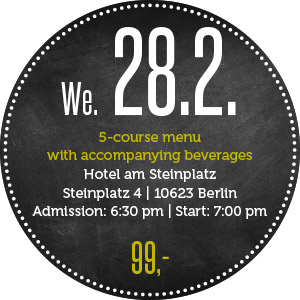 In short: without these tiny representatives of the sac fungi family, we gourmets would have much poorer lives. Good then that nature is clever, or as the great Immanuel Kant put it: "Everything that nature itself arranges is good for some aim."
Nature also plays a major role in the cooking of Daniel Schmidthaler (three toques). His restaurant Alte Schule Fürstenhagen in Mecklenberg is far outside the reach of the established premium foodstuffs supply chain, so he instead works with products brought to him by the fishermen, gardeners, hunters and farmers of the surrounding Feldberg lake lands. Those ingredients are supplemented in his pots and pans with treasures from his own garden and the surrounding forests. This is as regional as it gets.
For eat! berlin, Daniel Schmidthaler will be working together with Steinplatz Chef de Cuisine Nicholas Hahn on a five-course menu that puts the limelight squarely on wild yeast. The young star chef isn't revealing his plans just yet, but the focus will be on the sophisticated aromas that yeast produces during processing: "Sourdough will certainly play a role, not just in the bread but also during dessert. We'll be preparing flash-braised vegetables and herbs where the roasted powdered yeast provides excellent nuances of umami. If the season permits it, there will also probably be stewed game in a yeast stock, which produces a distinct acidic aroma not unlike Sauerbraten."
This fascinating and unusual yeast menu will be paired with wines from Schloss Vollrads (VDP), a Rheingau institution fabled for its outstanding Rieslings. There at (reportedly) the world's oldest winegrowing estate, the microorganism plays an important role: "We have a selection of five proprietary yeasts extracted from our vineyards which are ideal for the microclimate in our cellars," says Christine Müller, deputy director of the estate. She'll be presenting bottles of "Alte Reben" and "VDP.Große Lage" wines that have been resting "on the lees" for extended periods. Sparkling wine will likely also play a role, since the production of that delicacy requires at least two doses of the versatile microorganisms.
And you can expect another yeast-reliant product to find its way into glasses as well: craft beer from the outstanding selection at Bar am Steinplatz, known for its menu of the finest handcrafted beers from around the world. The yeast won't be the only ones enjoying a magnificent feast.
We. 28.2.

5-course menu 

with accompanying beverages

Hotel am Steinplatz

Steinplatz 4 | 10623 Berlin

Admission: 6:30 pm | Start: 7:00 pm

99,-