Tristan & Tristan
This post is also available in: German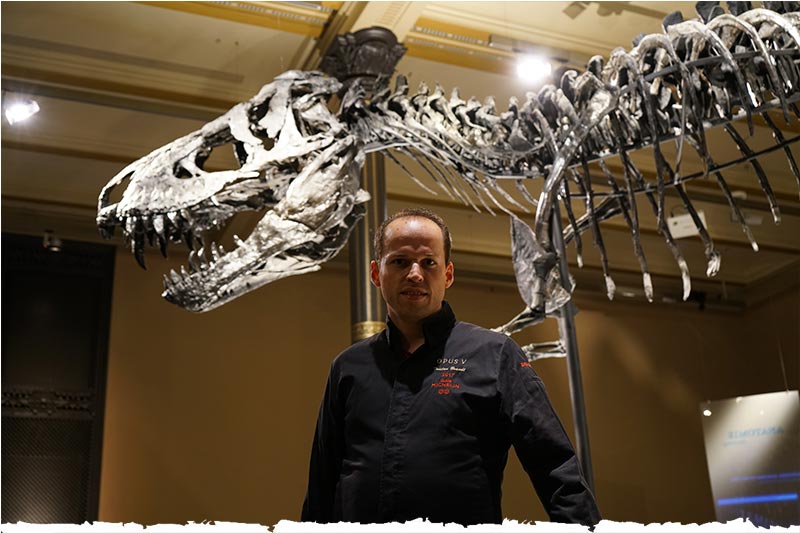 Two Michelin Stars,
and five courses at the Museum of Natural Science
They're both called Tristan, and are also both stars in their field: The first bears the surname Otto and is damned old – almost 66 million years, if archaeological studies of the skeleton found in Montana in 2012 are to be believed. The second Tristan goes by the family name of Brandt and is, at just 33, damned young, at least by comparison. Especially since his Mannheim restaurant Opus V has already cooked its way to 18 points (three toques) in Gault&Millau and a second Michelin star.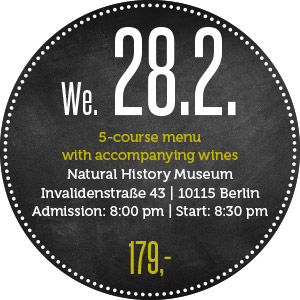 For this year's eat! berlin festival we've arranged for a meeting between these two vastly different attention-getters. Our rendezvous will by necessity take place in Berlin, as the older Tristan weighs seven tons and is somewhat less mobile. The younger Tristan is enormously flexible, traveling up from Mannheim with his restaurant team with plans for five well-appointed tables and five fantastic courses to cover them, all in front of his friend with the same name.
The dinosaur room is an unusual location, even for this unusual young chef.
Tristan Brandt learned at the hand of Manfred Schwarz in Heidelberg, worked under Harald Wohlfahrt in the Schwarzwaldstube and had stays ab-road at Jean-Georges Klein in Alsace and Shanghai, where he drew new inspiration for German star cooking. He assumed the role of head chef at Opus V in 2012, one of four fine restaurants in the elegant Kaufhaus Engelhorn in Mannheim. Brandt has since risen to managing director as well. His modern cuisine draws heavily from the French school, yet with creative enhancements through local and Asian ingredients that combine seemingly antithetical aromas into harmonious tastes. His appetizers on this evening will for example include an ingenious combination of pate, smoked eel and yuzu; the main course will feature turbot served with members of the onion family and blood sausage.
The wine will come from the hand of Carolin Spanier-Gillot of the Rheinhessen estate Weingut Kühling-Gillot (VDP) and Gunter Keßler from Weingut Münzberg (VDP) of the Pfalz, both stars in their field as well. Expect nothing less than a radiant evening.
We. 28.2.

5-course menu

with accompanying wines 

Natural History Museum

Invalidenstraße 43 | 10115 Berlin

Admission: 8:00 pm | Start: 8:30 pm

179,-