HE & AIR

This post is also available in: German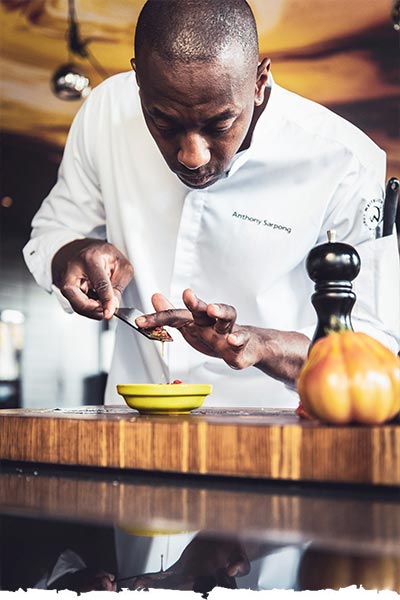 Anthony Sarpong © Weitblick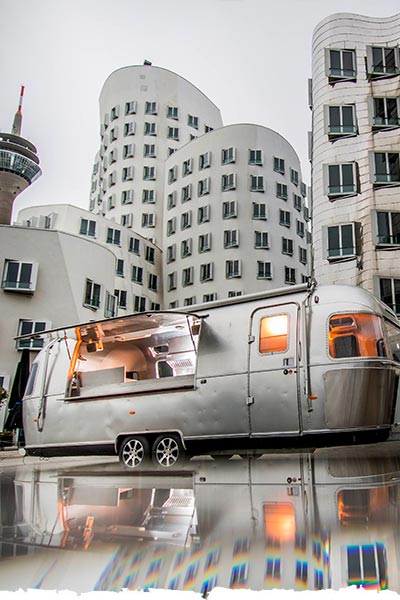 Time for a confession: The CARL & SOPHIE Spree Restaurant is one of our favorite restaurants when stressed and in need of a deep breath. It is beautifully located on the Spree, with breathtaking views, and the wine list leaves us breathless. CARL & SOPHIE is both the right and the wrong place to take a breath. Schrödinger's tavern.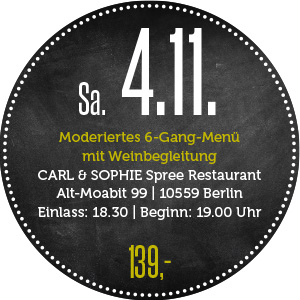 This evening is all about him – HE is Anthony Sarpong from Michelin-starred restaurant Anthony's Kitchen in Meerbusch. Anthony was born in Ghana, he trained among others at Fischer's Fritz in Berlin and has worked as a private chef in France, Spain, Kasachstan, Italy, and the United Arab Emirates.
The AIRstream is his beautiful, futuristic-looking food trailer with all the possibilities to conjure up anything from a classic star menu to elaborate street food. Anthony sends three gourmet courses from this mobile kitchen aka cult caravan. Three more courses will come from Martin Höse, chef de cuisine at CARL & SOPHIE. Claus Burmeister, winemaker at the award-winning VDP.Estate Heitlinger will provide you with the adequate wines. Take a deep breath – and a long sip.
Sa. 4.11.
Moderated 6-course-menu with accompanying wines
CARL & SOPHIE Spree Restaurant
Alt-Moabit 99 | 10559 Berlin
Admission: 6.30 pm | Start: 7 pm
139,-