Glanz und Gloria at Spiegelpalast
This post is also available in: German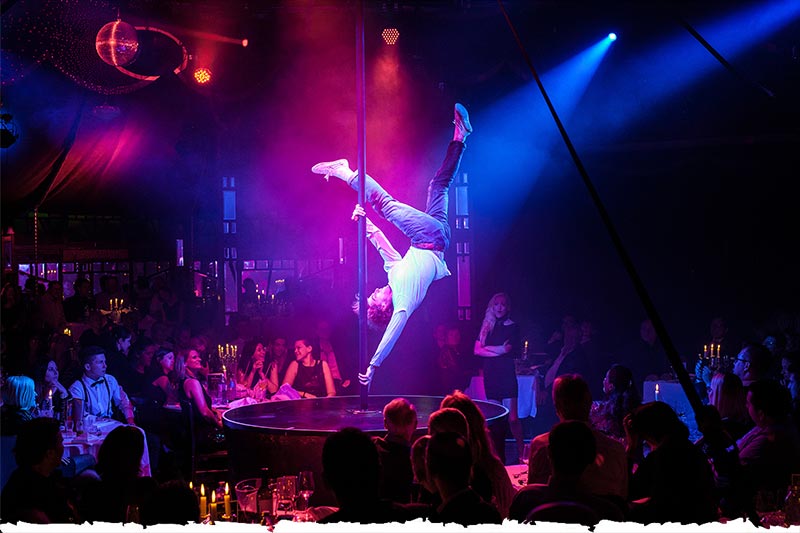 Benefit Event for Stiftung KinderHerz
at the Palazzo
The Palazzo has long been a colorful addition to the Berlin cultural scene, with its unique mix of gourmet delights and stage entertainment. The show only reopened in Berlin in early November 2017. It had taken a break while organizers Hans-Peter Wodarz and Kolja Kleeberg searched for a new site for the lovely mirrored palace. Their choice: the booming City West, right next to Bahnhof Zoo. "Glanz und Gloria" is the title of the new program, and Hans-Peter Wodarz promises: "The new show will be whimsical, weird and wild, just like Berlin." Chef de Cuisine Kolja Kleeberg has opted to go all new for his menu as well. The familiar leg of duck main course will be replaced with veal and, as you'd expect from a world-class talent like Kleeberg, a suitable vegetarian alternative: a mush-room strudel with wild broccoli.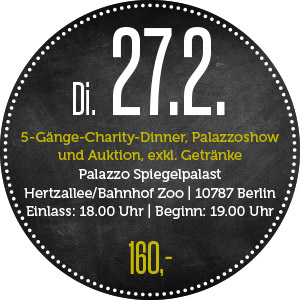 More than a half-dozen high-carat chefs will gather for the benefit event by Palazzo and eat! berlin on behalf of the Stiftung KinderHerz. Their playground: the 80-square meter kitchen at the Palazzo, where they'll conjure up fine, unexpected hors d'woeuvres to compliment Kleeberg's menu. This starts with Dieter Müller (four toques), Germany's most successful three-star chef, doyen and instructor to many of today's executive chefs; he'll be joined behind the stove by rising talent Tristan Brandt (three toques), from Mannheim's Opus V, Guido Fritz from Chefheads (the association of executive chefs), brothers Christopher and Alejandro Wilbrand (three toques) from the star restaurant Zur Post in Odenthal, Christian Sturm-Willms (three toques) of Yunico in Bonn and Würzburg-based star chef Benedikt Faust (two toques) from Kuno 1408.
Guests to this benefit event can naturally also look forward to a spectacular varieté program. At center stage, as always, is Miss Frisky: singer, entertainer, a conferencier of impressive vocal power, on hand to introduce the artists, illusionists and acrobats from around the world. One other top-notch but frequently overlooked element of the Palazzo experience: the breath-taking efforts of the kitchen and service crew, where a plate leaves the kitchen area every 1.7 seconds on average, headed out to delight one of the venue's 370 guests.
Proceeds from the charitable gala will go to the Stiftung KinderHerz, which promotes and supports heart clinics throughout Germany. Its Berlin site is the German Heart Center, which performs almost 500 operations each year for patients with congenital heart problems – almost 50 percent of them newborns and infants. Our moderator for the evening will be Nadine Heidenreich, excepting the charity auction, which will be handled by gifted cabaretist and TV satirist Oliver Kalkofe.
Tu. 27.2.

5-course charity dinner, Palazzo show and auction, excl. beverages

Palazzo Spiegelpalast

Hertzallee/Bahnhof Zoo | 10787 Berlin

Admission: 6:00 pm | Start: 7:00 pm

160,-
Charity dinner to benefit the Stiftung KinderHerz
Exquisite food can make many a heart beat faster. At this event, the famous world class chefs will be wielding their wooden spoons to help children's hearts. The charity dinner to benefit the Stiftung KinderHerz will help drive life-saving medical research. Leading the cooking brigade will be 3-star chef Dieter Müller, an ambassador for Stiftung KinderHerz.
He joins other supporters from a broad swath of fields, including sports, entertainment and politics. The unifying goal behind their various events like the Palazzo benefit: helping children born with heart problems, the most common congenital deformity. There are roughly 7,000 such cases each year in Germany, and many of the children must undergo emergency surgery almost immediately after birth. Despite these difficult beginnings, most of the "heart" children are filled with life, as the doctors, nurses and care staff at the Kinderherz centers can attest.
Stiftung KinderHerz does everything in its power to provide these little patients with a happier life, including innovative and sustainable research projects at the Kinderherz centers throughout Germany.