"Dinner and a Flick" at the Astor Filmlounge
This post is also available in: German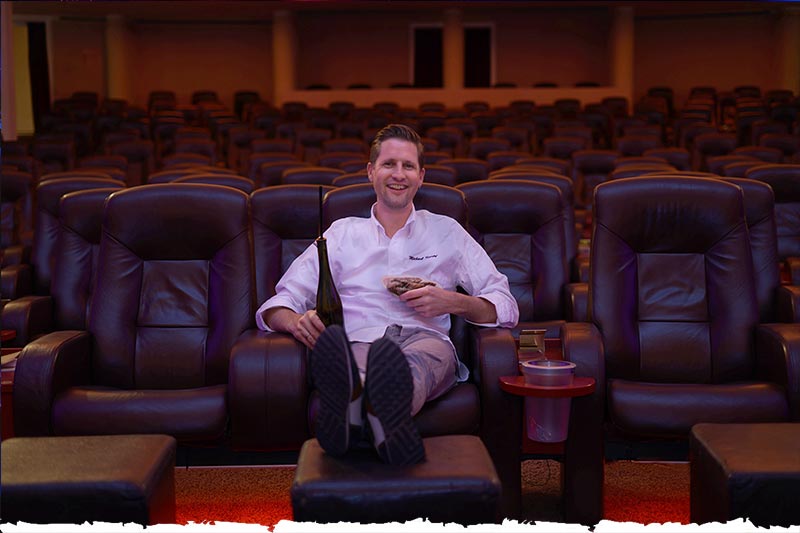 5 films, 5 courses and 2 stars
Are you somebody who eats at home when you're watching a film? I'm not talking about popcorn and chips, I mean a proper meal. If yes, then you're already ready for this blockbuster; if not, then we think you'll still end up giving two thumbs up. Because our "Dinner and a Flick" will feature an Oscar-worthy performance. What do Tim Raue, Hendrik Otto, Sebastian Frank and Michael Kempf (three toques) have in common? You guessed it: all have two stars in the Guide Michelin and all four have or will cook for the "Dinner and a Flick." And because life is generally too short for long films, we'll be enjoying five courses from world-class chef Michael Kempf to accompany five topical short films that will prepare our sensory organs for the tastes to follow.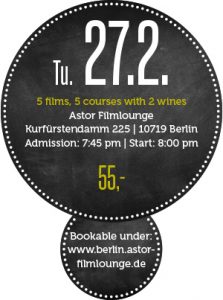 Cooking and cinema – they actually have a tremendous amount in common. Emotion and passion, sensibility and culture. This is all part of why we've turned our "Dinner and a Flick" into a series of events, to be reinvented each year around the core pillar of outstanding food. Michael Kempf, this year's host chef, is not the type to let the bright lights go to his head. His creative cuisine and outstanding craftsmanship have delivered the script for an impressive culinary career. The cornerstone for his success was clearly laid during his time in the three-star restaurant Dieter Müller. In 2003 Kempf rose to the role of chef de cuisine at the Berlin restaurant Facil, and immediately during that first year earned a Michelin star at just 26 years of age.
Gault&Millau proclaimed him "Rising Talent of the Year" in 2008, and in 2010 Kempf was declared a "Berliner Meisterkoch." His second Michelin star came in 2013, and Der Feinschmecker magazine named him "Chef of the Year" for 2014. In 2015 Michael Kempf was promoted to Executive Chef at Facil, with Joachim Gerner assuming his role as chef de cuisine. Popular Radio eins host Stefan Rupp will yet again guide you through the evening.
The Astor Filmlounge, one of the loveliest cinemas in all of Germany, will provide the big screen for this grandiose evening. With its generous leather chairs and massive leg room, the historical movie palace offers the optimal environment for a delicious, captivating evening – the kind that oughta be in pictures. Wines for the evening are provided by Winery Vinas del Vero.
Tu. 27.2.

5 films, 5 courses with 2 wines

Astor Filmlounge 

Kurfürstendamm 225 | 10719 Berlin

Admission: 7:45 pm | Start: 8:00 pm

55,-

B

ookable under: 

wwww.berlin.astor-filmlounge.de