Frau Luna
This post is also available in: German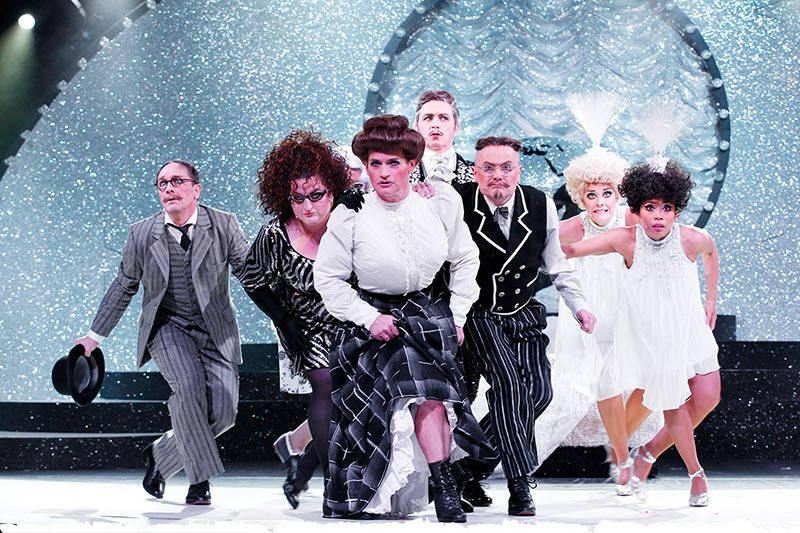 Berlin Operetta with Culinary Highlights
Das macht die Berliner Luft, Luft, Luft…" – if you've ever seen "Frau Luna," the famous operetta by Berlin composer Paul Lincke, you'll probably find yourself singing along. Saucy melodies, a charming circus tent in Tiergarten, a fantastic troupe of actors and the artistry of several outstanding chefs: the perfect recipe for a musical/culinary evening at eat! berlin.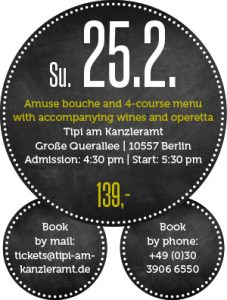 The Tipi am Kanzleramt takes off into the Berlin Operetta heaven and five world-class chefs from Berlin will be presenting classic Berlin-Brandenburg dishes from the turn of the century. Florian Glauert (two toques) from DUKE in the ELLINGTON Hotel will be serving hors d'oeuvres during the Champagne hour. This will be followed by the first course from Alexander Koppe (two chef's hats) of the Michelin-starred Skykitchen. The intermediate course will come courtesy of Alexander Dressel (two toques) of Potsdam's Friedrich Wilhelm, a starred restaurant, while the main course will come from Berlin's most famous 2-star chef Tim Raue (four toques), who will be dishing out his renowned Königsberger Klopse.
And then it's curtains up for Frau Luna and its story of Fritz Steppke, a clever Berlin chap who has a dream of flying to the moon. With the help of his friends Pannecke and Lämmermeier he builds a high-altitude balloon that make them the first humans in history to visit earth's satellite. There they encounter Frau Luna and her court amidst a rollicking feast with Mars and Venus, who are there for a visit. The moon elves dance, the lunar band plays its jazz and various hearts find targets of desire, leading to the famous song "Schenk mir doch ein kleines bisschen Liebe". The audience comes to realize that whether it's up on the moon or down here in Berlin, everything revolves around one thing.
With the aid of main sponsor GASAG and LOTTO-Stiftung, a cultural promotion fund, the Berlin-operetta, produced by Bernd Mottl, returned to Berlin's stages in 2016 and will reopen on January, 11th 2018.
Berliners are thrilled to see the names associated with the main roles, all beloved members of the Bar Jeder Vernunft family: The Geschwister Pfister, Cora Frost, Ades Zabel, Sharon Brauner and Mssrs. Pigor & Eichhorn, as well as friends of the house such as Katharina Thalbach or Gustav Peter Wöhler.
Dessert comes during the intermission, before the flight to the moon in the second half. Just what treats are in store from Sabrina Schanz, lead pâtissière at the Ritz-Carlton, remains a secret, but we suspect that the famous Berlin air,
air, air will somehow play a role…
Su. 25.2.

Amuse bouche and 4-course menu 

with accompanying wines and operetta

Tipi am Kanzleramt

Große Querallee | 10557 Berlin

Admission: 4:30 pm | Start: 5:30 pm

139,-
Book