For adults only!
This post is also available in: German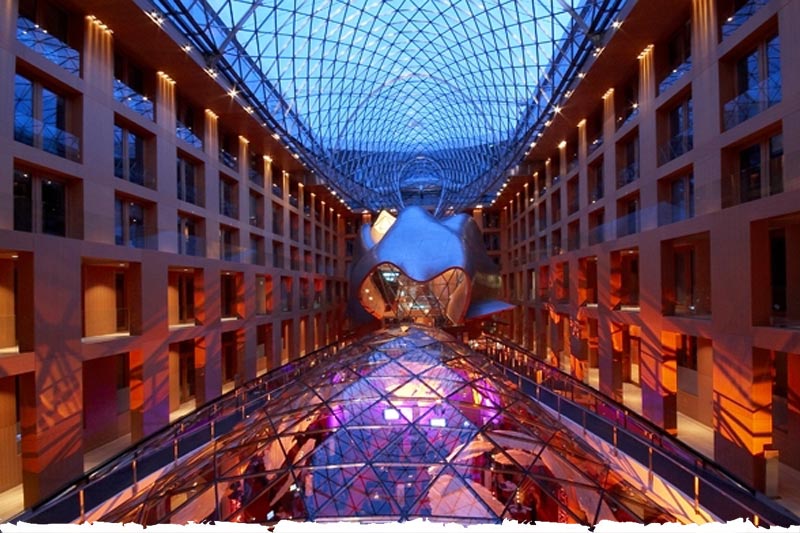 The radioeins menu in AXICA
Have you heard about our Tagesspiegel Gourmet evening? It's a blind date for all involved – festival visitors will be buying their tickets without knowing who'll be cooking or which two winemakers will be pouring the wine.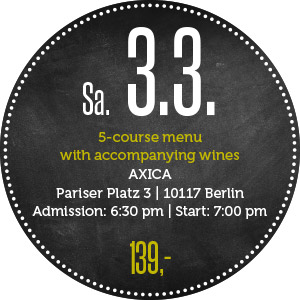 The radioeins menu is similar, except the identities of the chef and vintner are no secret. The surprise will come in the evening's entertainment program. Program Director Robert Skuppin has plenty of good things in store, as befits an event by radioeins, which is known for its good music, outstanding spoken word pieces and general excellence.
On the culinary side, the AXICA-Catering team under head chef André Steuer will also have some surprises in tow. Steuer had already held impressive posts with the finest establishments in Brandenburg before landing at the 2-star "L'Armen" restaurant from Yvon Morvan in Brittany. He'll be working alongside another outstanding guest chef on this evening: James Baron (three toques), who hit the Arlberg like a bomb.
With 3 toques and 18 points, he's hardly an unknown chef. Still in his early 30s, he's directed the kitchen at the phenomenal 5-star Hotel Hotel Tannenhof in St. Anton since 2015.This Englishman appears to have an affinity for the Alps, or at least its specialties – having previously served as sous-chef to Andreas Caminada (3 Michelin stars, 19 points) at Schloss Schauenstein im Fürstenau, Switzerland. Baron refers to his work as "creative alpine cuisine," although anyone who's had the pleasure of tasting his dishes might well protest that he's selling himself far too short. His outstanding efforts in the kitchen helped the Tannenhof earn Gault&Millau's distinction as 2018 Hotel of the Year. Hotel Director Axel Bach accepted the award, and is also president of the notable "Kulinarik&Kunst" festival on the Arlberg.
The name on the wine bottles on this evening will set vinophiles' hearts aflutter: the wonderful Stephan Attmann from Weingut von Winning (VDP) will be on hand to explain the history of his Rheinpland-Pfalz estate. The wines are produced in a fantastic style and method, and in many cases have been completely reimagined.
Beyond this, we are also expecting Andreas and Regina Stigler, whose Kaiserstuhl wines are among the finest anywhere in Germany. The fascinating spectrum of grape varieties and the Stigler's joy in experimentation are legendary – although one eventually always falls into the gravitational pull of their Pinot-family Großes Gewächs wines, which are perpetually scintillating and top rated. Stigler's sparkling wine is also top notch and the envy of many a producer from Champagne.
This kind of diverse and exceptional evening naturally requires an exceptional venue as well. AXICA will be providing not just the catering, but also the truly perfect premises, an architectural masterpiece near the Brandenburg Gate. For years AXICA has been one of our favorite locations, and we're very happy to have arranged an event here in 2018 as well.
Sa. 3.3.
5-course menu with accompanying wines
AXICA
Pariser Platz 3 | 10117 Berlin
Admission: 6:30 pm | Start: 7:00 pm
139,-