FLY ME TO THE MOON
This post is also available in: German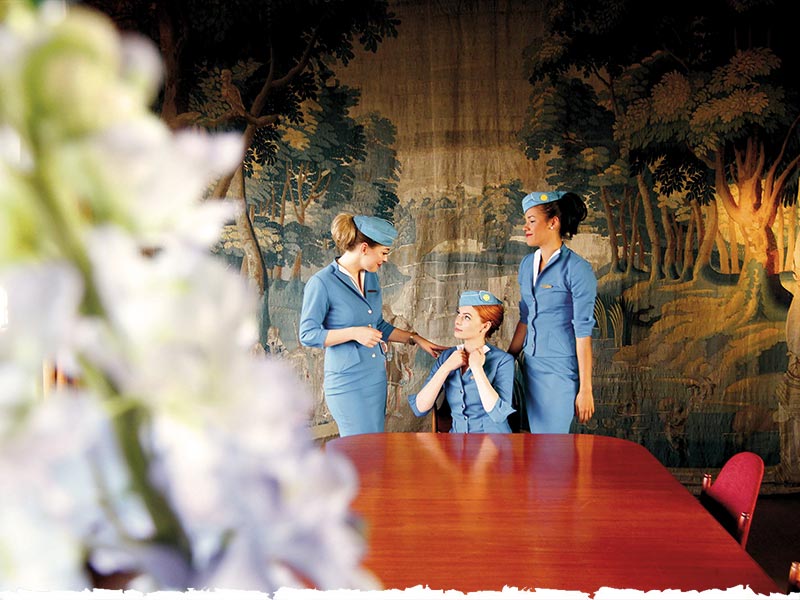 Pan Am Lounge conference room
The journey through time in the Pan Am Lounge
Anyone sitting in one of today's low-cost airliners can no longer imagine what an indescribable luxury flying was back in the 1960s and 1970s. The airplanes were equipped like clubhouses (no, not the ones of Rock gangs). Being a stewardess was considered a dream job, because the staff of the passenger planes also led prominent lives. The food and drinks were exquisite, but a ticket quickly cost a good monthly salary. The airline Pan Am stood for this lifestyle like no other, and it is a gift that the Pan Am Lounge in Charlottenburg has been preserved from this time. The staff resided here when they had to spend the night in Berlin.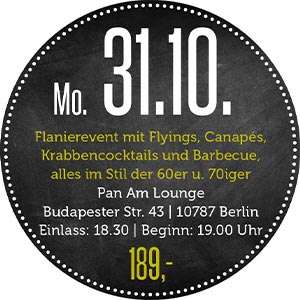 So, let us and the Pan Am Lounge take you back in time: the time of fuzzy peaches, canapés, and champagne bowls. Thomas Hartmann will be providing us with culinary delights. He runs a catering company and cooks for the rich and famous as a chef for hire. You probably know him. There will be modern interpretations of classics from the airplane cuisine of the time and, of course, premium sparkling wine from the VDP.
But what would such an evening be without music? Moreover, what would such an evening be without Frank Sinatra? Unfortunately, we can no longer book him, but almost. The evening will be accompanied by the wonderful Jens Sörensen, one of the best Sinatra interpreters in Germany.
In order to enjoy the premises in their entirety, we have made it a flying dinner. You will get appetizers, you can stroll through the rooms, and you can also pick up a dish or two directly from the barbecue grill.
Georg Prinz zur Lippe is supplying the wines on this occasion. He can create the ideal ambiance with his special sparkling wines, Goldriesling, and Burgundy wines. Even if no wines this good were produced at the VDP winery Schloss Proschwitz – Prinz zur Lippe in the 1960s or 1970s, we still adore it. We are fortunate to have them today!
Mo. 31.10.
Strolling event with flyings, canapés, crab cocktails and barbecue, all in the style of the 60s and 70s
Pan Am Lounge
Budapester Str. 43 | 10787 Berlin
Admission: 6.30 pm | Start: 7.00 pm
189,-