ラフ Flotter TReier 1
This post is also available in: German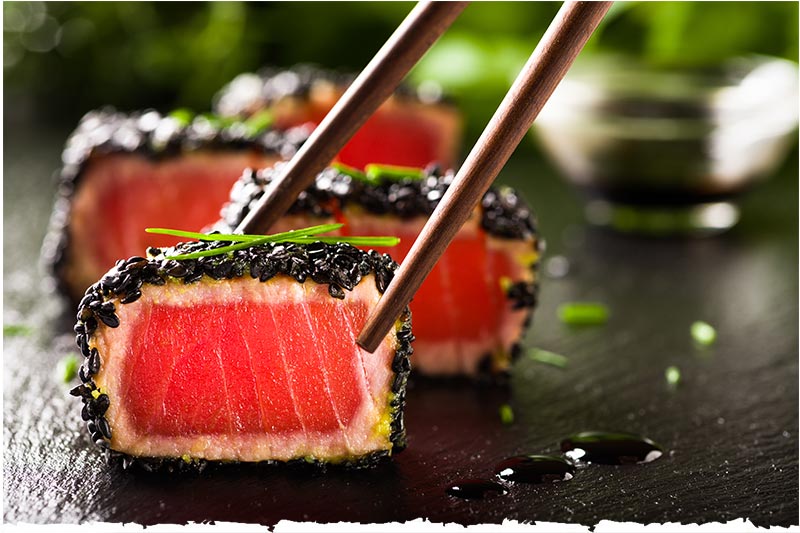 A Threesome with Tim, Part 1:
Tim Raue, Daniel Marg and Yoshizumi Nagaya at Sra Bua
September 2017 saw Daniel Marg (two toques) take the reins in the kitchen of Sra Bua by Tim Raue (four toques). While a surprise for many observers of the gastro scene, for his boss Tim Raue it was the next logical step in a close working relationship that first started in 2014. Marg had previously served as sous-chef at Restaurant Tim Raue in Kreuzberg's Rudi-Dutschke-Straße.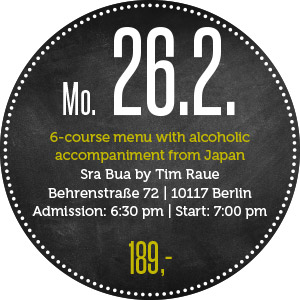 For eat! berlin, the young executive chef is now inviting his two most important mentors to join him in the kitchen at Sra Bua, a locale known for its unparalleled Asian flair, cosmopolitan chill and fine European dining: the dynamic Raue, whose deep well of creativity inspires Marg, and his one-time employer Yoshizumi Nagaya (three toques), considered Germany's finest Japanese chef. During 2013 and 2014, Marg served as Chef de Partie in Nagaya's Düsseldorf star restaurant Nagaya, experiencing first-hand a master's personal interpretation of modern Japanese cuisine. Nagaya's enduring influence on the 28-year-old chef was in full evidence during the early weeks of the new regime at Sra Bua. One of the new head chef's first acts was to add several sashimi and sushi dishes to the menu.
We're eager to see what this fascinating trio, comprised of an aspiring newcomer and two decorated masters, can conjure up for this evening. The plan calls for a six-course Japanese menu unlike any before and probably any after: original, clever and reliably surprising. The individual courses will be accompanied by various fine sakes, quality beer from Nippon and Japanese-inspired cocktails with names like "Aregato, mon ami," "Little Ninja" and "Satsuki." The pairings will be handled by Shahab Jalali, the new sommelier & restaurant manager at Sra Bua by Tim Raue.
Mo. 26.2.

6-course menu with alcoholic 

accompaniment from Japan

Sra Bua by Tim Raue

Behrenstraße 72 | 10117 Berlin

Admission: 6:30 pm | Start: 7:00 pm

189,-