Pool position
This post is also available in: German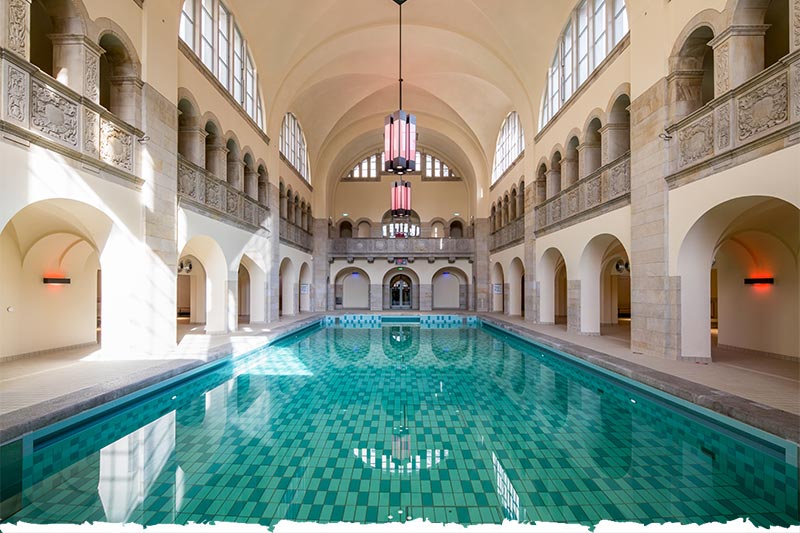 Great chefs can make magic
with just water
Stadtbad Oberberger is an inspiring spot. Erected in 1898 based on plans by architect Ludwig Hoffmann, it opened in 1902 as a public swimming establishment. It was tasked above all else with promoting physical fitness. The pool escaped World War II largely unscathed and continued operation until 1986. By that point, cracks had appeared in its basin. In 2011, the GLS-Sprachenschule purchased the pool, renovated it and in 2016 opened the Hotel Oderberger, with 70 rooms, 2 suites and 10 seminar rooms.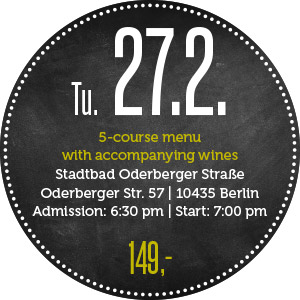 Looking at it today, the first thing that stands out is the tremendous attention to detail lavished on this architectural gem by its restorers, Barbara Jaeschke and her daughter Verena. The spirit of the past is visible on every square meter. The pool, which for years had been closed to residents of Prenzlauer Berg, reopened its doors and now even features public swimming hours.
Part of what makes the architecture so unique is that the pool water can be completely drained down to a lower level. The floor of the pool can then be elevated into a flat event space. And that's where we intend to hold our event.
The topic of water will be the common thread on this evening. Not just the outstanding water from the local utility, the Berliner Wasserbetriebe, but also the bottles from VDP winemakers who have a special affinity for H2O. Schloss Proschwitz lies along the Elbe, while Weingut Battenfeld-Spanier looks out upon the Rhine. Both rivers have their own distinct and important influence on the stylistics of the wines, but let's give winemakers Carolin Spanier-Gillot and Georg Prinz zur Lippe the chance to explain that themselves.
The culinary aspect of our evening will also explore water, and not just how foodstuffs can be prepared in it. There are lots of options: water buffalo, water chestnuts, algae, fish… the chefs' fantasy will be given free reign. As well they should, given the star wattage of the names involved: 2-star chef Marco Müller (three toques) will contribute one course. Few other chefs have generated such excitement in Berlin in recent years. With 18 points in Gault&Millau and two stars in the Guide Michelin, he's also one of the highest rated. Alexander Dressel boasts two (two toques) and a Michelin star, and is, as far as we are concerned, far and away the finest chef in Brandenburg. The native Berliner directs the Bayrisches Haus hotel in Potsdam, and through its gourmet restaurant Friedrich Wilhelm waves the flag proudly for high-end gastronomy in that federal state. He's also president of the Jeunes Restaurateur (JRE) association, which joined eat! berlin as an official partner this year. The third in this trio is also a member of the JRE, with a name that truly any gourmet will recognize: Nils Henkel (three toques) and 18 points. At press time it's not yet clear just how many stars his Burg Schwarzenstein in the Rheingau will claim for 2018. But anything under 2 stars would be almost inconceivable, and lead to major protests from industry insiders.
Can great chefs really cook just with water? Sure! But they may add in a little seasoning first…
Tu. 27.2.

5-course menu 

with accompanying wines

Stadtbad Oderberger Straße

Oderberger Str. 57 | 10435 Berlin

Admission: 6:30 pm | Start: 7:00 pm

149,-