DICKES B, OBEN AN DER SPREE
This post is also available in: German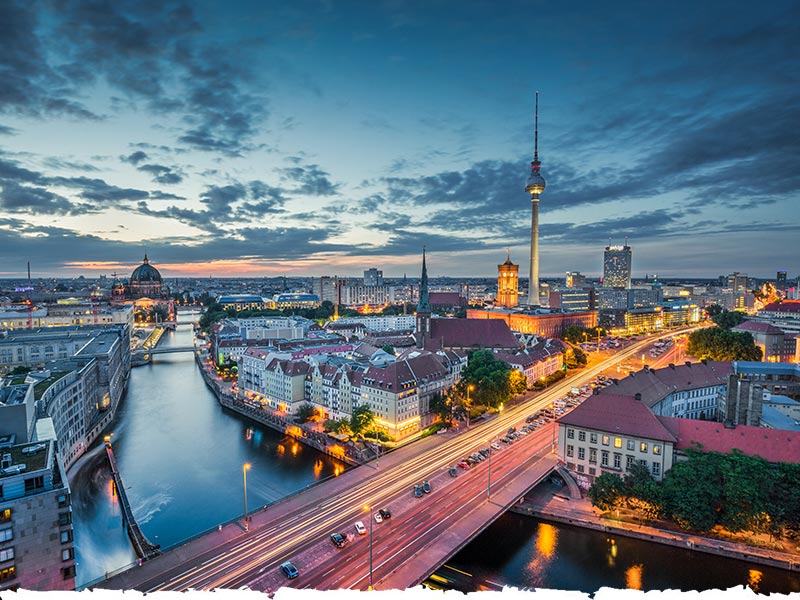 Fernsehturm Berlin skyline bei Nacht © bluejayphoto
With this song Seeed has set a monument to our city. We feel responsible for culinary monuments and have chosen the following actors (carved in stone so to speak):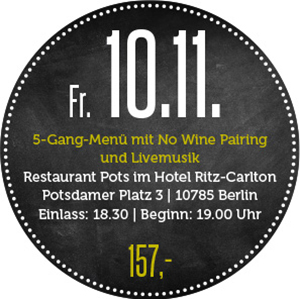 Christopher Kujanski, chef at Restaurant Pots. He came to the capital to take over the restaurant at the Ritz-Carlton from Dieter Müller. Previously he was sous chef at Dieter Müller restaurant on the MS Europa. He acquired his deep knowledge and passion for casual fine-dining at Facil and at Vendôme. Our personal favorite pastry chef, Sabrina Schanz, now works for the sustainable chocolate brand Original beans. She shows us the chocolaty side of life, skilfully and creatively implementing Berlin.
Another figure in our culinary statue bears the likeness of Lina Wendel. The restaurant manager of Restaurant Pots will accompany the evening with drinks from Berlin that are anything but wine, e.i. schnapps from the passionate Berliner- by-choice Stefanie Drobits, alias Fräulein Brösel. Cube-Livemusik with Marie Chain revives the capital's different musical periods. From Hildegard Knef to Harald Juhnke to fantastic DJ sets, everything that has shaped Berlin will play a role this evening.
Fri. 10.11.
5-course-menu with No Wine Pairing and live music
Restaurant Pots im Hotel Ritz-Carlton
Potsdamer Platz 3 | 10785 Berlin
Admission: 6.30 pm | Start: 7 pm
157,-