This post is also available in: German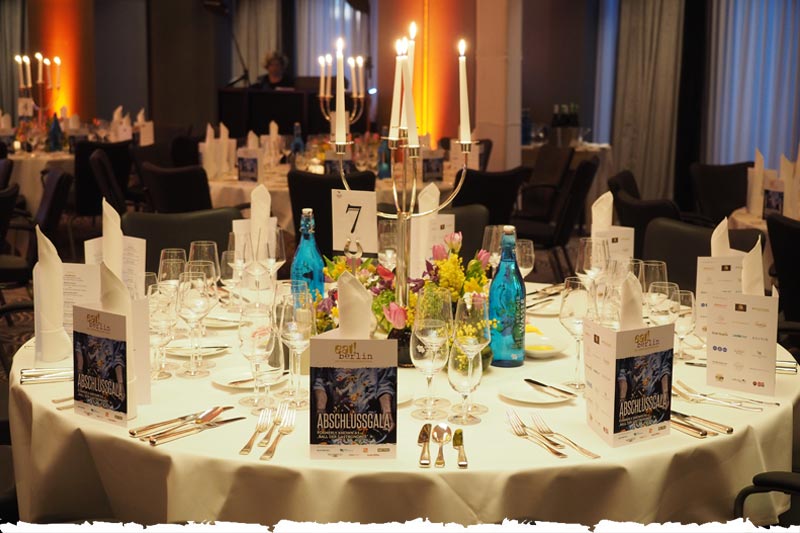 Gala in the Waldorf Astoria
Sometimes you just need to go ahead and treat yourself to something," we told ourselves last year as we moved the closing gala to the lovely Waldorf Astoria. The new venue inherently made this event, already the highlight of our festival, into a smaller and significantly more exclusive affair. It also made it all the more successful, leading us to immediately book the ballroom again for 2018. If you manage to score a ticket for this evening, be sure to book yourself a room in the hotel for the night as well: "Go ahead and treat yourself…," you know the drill.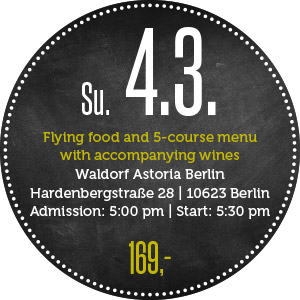 In 2017 eat! berlin celebrated its gala soirée with 170 very happy guests. It was a glittering evening, thanks in no small part to the culinary efforts of our festival stars: world-class chefs Marco Müller (three toques), Philipp Liebisch (two toques), Daniel Lengsfeld (two toques) and Jörg Behrend, TV chef Felicitas Then and the dedicated team at the Waldorf Astoria, as well as the young but highly professional service team from the OSZ Brillat-Savarin vocational school. There were outstanding wines, including from Wilhelm Weil of the VDP Weingut Robert Weil. We ate well. We drank well. We reveled.
The evening also included the prize ceremony, an absolute highlight because there truly was so much to praise. Wilhelm Weil received the Lifetime Achievement award for his work at the tradition-rich, globally renowned Weingut Robert Weil.
Michael Prinz zu Salm-Salm, the honorary president of the Verband deutscher Prädikatsweingüter (VDP) presented the award. Gesumino Pireddu, described many times over as a magnificent host and master of the carving knife, received the prize as a Promoter of Gourmet Culture. The prestigious People's Choice award was shared by Sonja Frühsammer (three toques), whose "Dwarf Menu" bewitched guests at the Komische Oper, and to Felicitas Then, who held two sessions of twelve guests each in her own Neukölln apartment – quite the home field advantage, to be fair. Young and rising talent from the gastronomy business earned their praise too: Frederik Ohlms from the kitchen at Sarah Wiener im Hamburger Bahnhof received the 2017 Siegfried Rockendorf Prize for young chefs, conveyed by Patricia Bröhm, Editor-in-Chief of Gault&Millau. The 2017 Henry Busch Prize for young service talent went to Julius Wiescher from Restaurant Balthazar 2, presented by Frank Deutschmann of Sommelier Exklusiv Berlin.
This crowning gala event of the 2018 eat! berlin festival will once again be held in the foyer and ball room of the Waldorf Astoria – when it works this well, you stick with it. We'll once again start with caviar, this time from Brandenburg's Forellenhof Rottstock / Resort 25 Teiche, as well as freshly shucked oysters from our partner Metro Berlin. The fine evening will be moderated by the fine moderators from radioeins, Sven Oswald and Daniel Finger. We look forward to prominent names such as star chefs Arne Anker (two toques) from Pauly Saal, Daniel Schmidthaler (three toques) from Alte Schule, Philipp Liebisch (two toques) from Juwel in Kirschau and pâtissier René Frank (two toques) from Coda Dessert Bar, each of whom will be spoiling us with one course of the menu. The time in the foyer will be lightened with two amuses-bouches from the Waldorf Astoria team, with dim sum from the chefs at Restaurant Ming Dynastie served from large bamboo steamers before the prize ceremony. We'll enjoy wonderful wines from Robert Weil (VDP), Von Winning (VDP), Weingut Stigler (VDP), Prinz von Hessen (VDP), and the Staatsweingut Freiburg (VDP). We'll also nosh on fine OHDE
Marzipan from Neukölln, a project supported by entrepreneur Hammid Djada. Proceeds from the sale of the marzipan are earmarked for a foundation that helps disadvantaged youths in that district earn a spot at university.
Come ready to be surprised, but don't wait too long to treat yourself: these tickets go quick.
Su. 4.3.
Flying food and 5-course menu with accompanying wines
Waldorf Astoria Berlin
Hardenbergstraße 28 | 10623 Berlin
Admission: 5:00 pm | Start: 5:30 pm
169,-
Schedule and program
5 pm Doors open
reception in the foyer with hors dóeuvres from Waldorf Astoria
6 pm Ballroom opens
Culinary greeting from Ming Dynastie
6:30 pm Awards ceremony begins
Lifetime Achievement,
Promoter of Gourmet Culture,
People's Choice award 2017,
Siegfried-Rockendorf-Preis
(turn to page 54 for more
on our awards)
7:30 pm 4-course meal is served
The evening´s chefs include:
• Arne Anker (Pauly Saal)
• Daniel Schmidthaler
(Alte Schule)
• Philipp Liebisch
(Juwel in Kirschau)
• René Frank
(Coda Dessert Bar)
• Wine pairing by: Robert Weil, Von Winning, Weingut Stigler, Prinz von Hessen, Staatsweingut Freiburg
10:30 pm Conclusion
with further delicious treats