A BLIND DATE WITH CHEFS AND WINEMAKERS

This post is also available in: German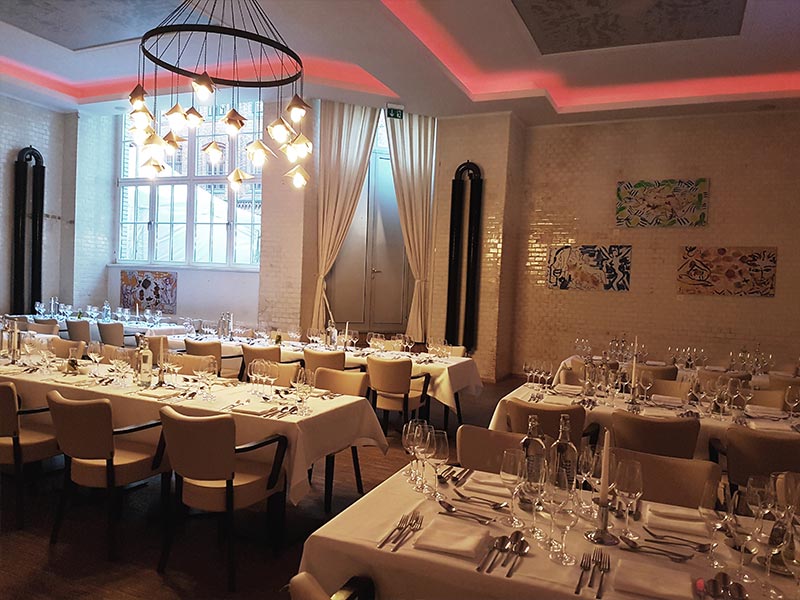 Schmelzwerk in den Sarotti-Höfen 2020 eat! berlin
Oh, if only we could tell you who will be our surprise guest on your blind date this year. Some things remain the same: Bernd Matthies is your host, assisted by Ulrich Amling. The two journalists and knowledgeable critics of Tagesspiegel Genuss will team up with Markus Herbicht, the stage for the guest chef and the vintners will be Schmelzwerk.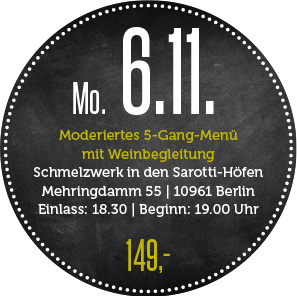 Since 2016 we had two-star chef Christoph Rainer cook with Marco Müller, and Daniel Schmidthaler with Matthias Gleiß. Austrian Andreas Döllerer introduced his Alpine cuisine, nature chef Rebecca Clopath from the Swiss mountains met Ralf Haug from the island of Rügen, Katrin Baake traveled from Malmö, Thomas Bühner visited the capital in 2021 and last years surprise was Kai Weigand from Nikkei Nine, Hamburg.
Excellent winemakers were selected with a keen eye and have also been highly secretive all these years. The Lubentiushof Winery, Candialle Winery, Domaine Comte de Thun, the VDP.Estate Pfeffingen, August Eser and Rings as well as the Austrian Herbert Zillinger Winery, to name but a few, were there. We are very excited to see what the mysterious restaurateurs will come up with for you this year.
Mon. 6.11.
Moderated 5-course-menu with accompaniment wine
Schmelzwerk in den Sarotti-höfen
Mehringdamm 55 | 10961 Berlin
Admission: 6.30 pm | Start: 7 pm
149,-