TOUR DE CUISINE
This post is also available in: German
4 COURSES, 4 WINES AMIDST THE STAINLESS STEEL
Saturday, March 4, 2017, 3.30 pm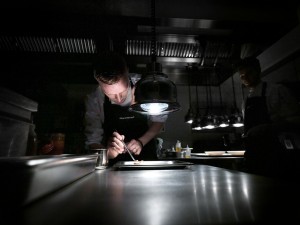 Do you like kitchen parties? Well, we hate 'em. And yet once a year star chefs insist on inviting in the public, looking to fill every available space in the kitchen with hundreds of guests. Which means long queues at the stoves… and if there's anything we can't stand, it's having to queue up for food. So we at eat! berlin have organized a different type of affair. 8 guests and 1 nine-seater bus. We start with a leisurely visit to the Hotel de Rome where executive chef Jörg Behrend will plate us a fine dish from his "La Blanca" menu. And of course, a glass of wine. We'll stand at the pass, watch the chef over his shoulder and chat a bit with the master.
SOLD OUT

Our bus will then bring us to star chef Marco Müller 3 toques to repeat the same procedure. 1 course, 1 wine at the pass and a quarter-hour of pleasant chit-chat. Expect the finest — Müller is currently one of Berlin's grand hopes for bumping up his rating in the Guide Michelin and Gault&Millau.
Hendrik Otto 3 toques from 2-star "Lorenz Adlon" will be our next host, and we're just as excited as you are to see what this charismatic talent has in store for us. Nice too that he's taking some personal time for us.
We'll wrap things up with Ivo Ebert at Einsunternull. Both Ivo and executive chef Andreas Rieger 2 toques will await us, with a final course and yet another full glass. There's a good chance he'll have a star by the time we arrive. The winners hadn't yet been announced as this magazine went to print. He's certainly earned it.
Looking forward to this tour? Us too! But you must act quickly. There are only 8 spots!
Schedule:
3:30 pm meet at hotel lobby of "Hotel de Rome"
4:10 pm drive to Marco Müller at Weinbar Rutz
5:10 pm drive to Hendrik Otto at "Lorenz Adlon"
6:10 pm drive to Andreas Rieger at Einsunternull
4 course menu, 4 wines, 4 kitchens
Start 3.30 pm, End about 8 pm
Tickets: 158,00€ 
Hotel de Rome,  Behrenstraße 37, 10117 Berlin