This post is also available in: German
DANCING, DINING AND DELIGHT
Saturday, 4 March 2017, 7:30 pm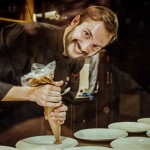 The quality of craftsmanship emerging from Germany's star kitchens has famously made leaps and bounds in the past decades, with a dawning awareness of the nation's rich yet underappreciated trove of culinary traditions. One aspect of this has been a growing resurgence in regional specialties, including the use of heritage foodstuffs. "Regional and seasonal" has proven much more than a fad, manifesting itself firmly in the skillets and skulls of many elite chefs.
This event brings together three massive culinary talents:
Michael Kempf is one of the best and most creative minds not just in Berlin, but all of Germany. His relationship with his ingredients — the attention to products others might consider banal — is unprecedented. His craftsmanship is precise and impressive. Not surprisingly, Gault&Millau and Guide Michelin have repeatedly awarded him 18 points and 2 stars, respectively.
Matthias Gleiß cooks at the highest level at Restaurant Volt. Gault&Millau has awarded him 17 points and the 3rd toque; that Gleiß has yet to receive a star is typically met with incredulity by Berlin's culinary elite. Gleiß impresses his guests with creativity and a wonderful style of plating. He is a one of the original engines behind Berlin's move towards the gourmet.
Tobias Gunter is executive chef at "Einfallsreich." He originally hailed from Bremen, with professional stops in Austria, Portugal (under Dieter Koschina) and then in 2012 with 2-star chef Marco Müller in Berlin. He too prefers regional foods, from which he can draw out the finest inherent tastes. The man has enriched Berlin tremendously.
'New', i.e. innovative, German cuisine represents creative and authentic interpretations of favorite classic Germany fare, with no lack of crowd-pleasing culinary delights shaped by tradition, region and individuality.
An evening of highly complex technical perfection, where you'll enjoy a fascinating array of fresh, diverse yet traditional-minded classics through a new prism.
Served to house music in a casual atmosphere, this is as new wave German as it gets. einfallsreich invites you to explore its large "livingroom-kitchen" — recline on the comfy sofas, around the kitchen counter or at the table to the stylings of DeutschPoet Fabian Haupt.
6 course menu and 3 cooks including winepairing and music
open doors 7 pm, start 7:30 pm
Tickets: 129,00€
einfallsreich, Leibnizstraße 38, 10625 Berlin