The Tagesspiegel Gourmet Evening
This post is also available in: German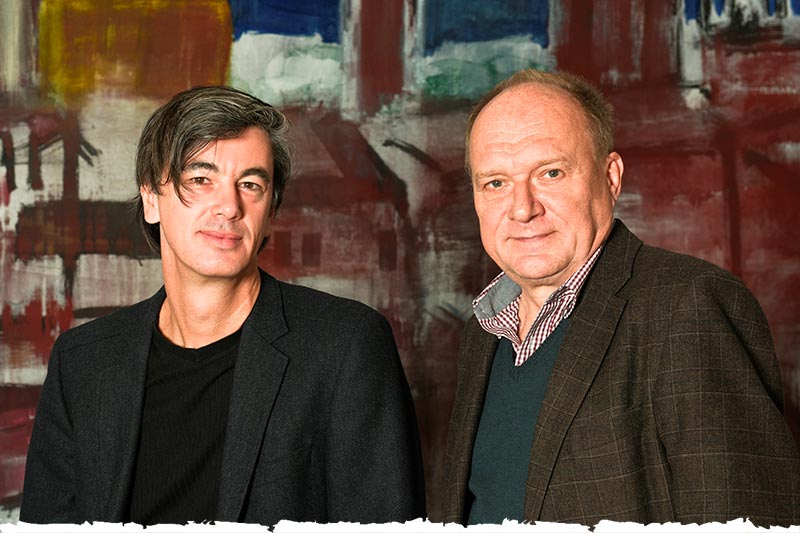 A Blind Date with Chefs and Vintners
Bernd Matthies and Kai Röger are familiar figures, and not just to readers of the Berlin Tagesspiegel newspaper, where they serve as two of the most influential journalists from the capital city's dining scene. Matthies writes highly regarded, at times even feared, restaurant reviews and knows the Berlin restaurant landscape like the back of his hand. Röger is a former editor-in-chief of Berlin-centric "zitty" magazine, director of the grand Tagesspiegel Genuss magazine and covers new restaurants, kitchen talent and national trends for his publication.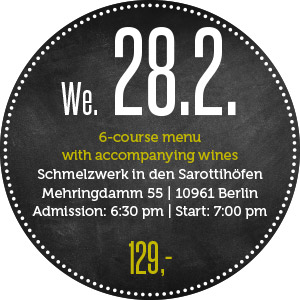 In 2016 we launched the "blind date" project with Matthies and Röger, which relies on one single conceit: guests went in blind, with no forewarning about the chefs or winemakers. We were surprised at how quickly the evening sold out, despite the fact that the ticket buyers were blind about what victuals they would be enjoying. We took this as an indication that people are willing to offer a bit of blind trust to Bernd Matthies, Kai Röger, the Tagesspiegel and perhaps even eat! berlin.
The tremendous interest, and the tremendous fun of the actual event, demanded a repeat engagement.
Last year we managed to smuggle star chefs Daniel Schmidthaler (three toques) from Alte Schule in Fürstenhagen and Matthias Gleiß (three toques)  from Volt into the Schmelzwerk at the Sarotti Höfe.
Thanks to the generous support of host Markus Herbicht, they were able to cook a superlative surprise menu matched with wines from Herbert Zillinger (outstanding Veltliner "Radikal") and Josephin Peränen (Candialle, Tuscany), who had brought her fabulous "Ciclope" along for the evening. The visitors were all in the dark about what lay ahead – but no one was complaining afterward. Quite the contrary. It was a fine gourmet evening for all involved, including the two hosts.
But enough retrospective. How about a few details for this year? Who's cooking? Who will be presenting their wines? We know, of course – but our lips are sealed. Especially when we're around Mssrs. Matthies and Röger.
This much we can reveal: The evening will once again take place in the Schmelzwerk in den Sarottihöfen. World-class chef Markus Herbicht will once again be providing an outstanding opener for the meal and playing the perfect host, as he always does. And one last thing: our mystery chef is considered one of the finest at his craft in Austria. Blind date? Swipe right on this one!
We. 28.2.

6-course menu 

with accompanying wines

Schmelzwerk in den Sarottihöfen

Mehringdamm 55 | 10961 Berlin

Admission: 6:30 pm | Start: 7:00 pm

129,-