LA VIE GOURMANDE, ALSATIAN STYLE
This post is also available in: German
THE HUGEL FAMILY PAY A VISIT TO ROSA LISBERT
Wednesday, 1. March 2017, 7 pm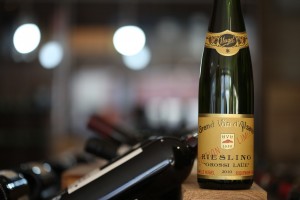 Fine dining in a market hall may be old hat in Spain, but in Germany it's hardly de rigueur. Lisa Meyer and Robert Havemann are working to change that, and as pioneers of the effort were even tapped as "2016 Hot Restaurant of the Year" by the jury at "Berliner Meisterköche." Lisa Meyer is an enormous culinary talent who trained under Michelin star chef Stefan Hartmann. Robert Havemann, a child of France, is also a trained chef. Together they form an outstanding team and who knows… their concept may yet produce honors from Gault&Millau and Guide Michelin. They've certainly earned it. Among the best of their products are Rosa Lisbert's wood oven tartes flambées, and Robert's wine list surely counts among the finest in Moabit, perhaps one day among the finest in all of Berlin.
The Hugel Family are also trailblazers. Since the 18th century they've been making wine in Riquewihr, always with a single-minded focus on quality. In the aftermath of 1918 a number of visionary winegrowers came together under the leadership of Frédéric Emile Hugel to promote greater quality in Alsatian wine. The resistance was fierce. Son Jean followed in Papa's footsteps, showing the tenacity and dedication needed to drive the estate to worldwide acclaim.  Jean's own sons Georges, Jean and André have continued the family's pursuit of uncompromising quality.
The family chain remains unbroken, with the 21st century primed to see the latest generation — Jean-Philippe, Marc and Etienne — take the reins. It will be their task to usher Alsatian wines into the ranks of the grandest whites of the century. That is, if you mistakenly believe that grand Gewürztraminer isn't already there. The maturity of these wines in particular will take your breath away.
We are tremendously glad to have a member of the Hugel clan join us in Berlin with a sample of their fantastic wines. You can expect a few other matured beauties from the region as well to help round out our picture of the Alsatian state of the art.
5course menu including wine pairing
open doors 6.30 pm, start 7 pm
Tickets: 115,00€
Rosa Lisbert in der Arminiushalle Moabit, Arminiusstraße 2-4, 10551 Berlin