Southwest Germany, Land of Delights
This post is also available in: German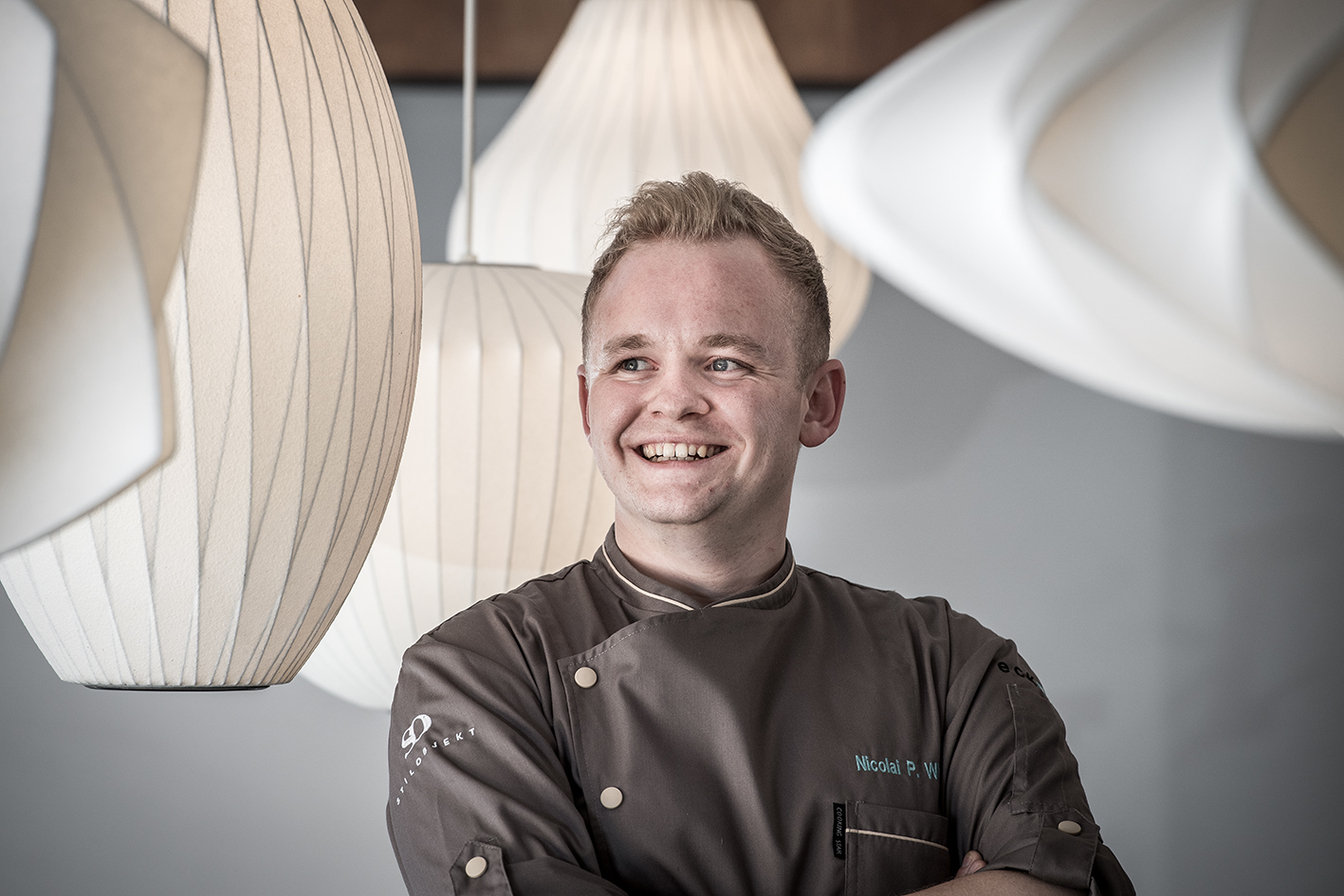 Haute cuisine with Michelin starred chef Nicolai Wiedmer at the Baden-Württemberg representation
It's a bit like the German version of "I heart New York." The decades-old Baden-Württemberg slogan "Wir können alles. Außer Hochdeutsch" (We can do anything. Except speak High German) was recently found to have 70 percent recognition among all Germans. We'll take their word about the High German part, but we can attest to having first-hand knowledge of Baden-Württemberg's fantastic gourmet culture. Some people seem to think that people from Baden and people from Württemberg don't like each other. Don't believe it.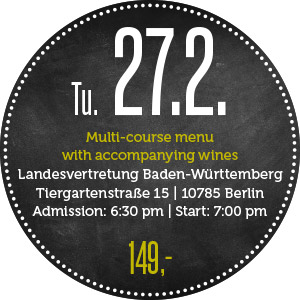 The friction between the two former kingdoms is better understood as a healthy sense of fraternal competition, albeit one that dates back hundreds of years. It may even be part of the reason for their economic success. But really, this "rivalry" is about the things that really matter in life: who cooks a better plate of Spätzle, who makes a better glass of wine, and, of course, who's got the prettier girls.
The Swabians and the Alemanni actually get along fine. If you don't believe us, watch them when they get together in Berlin. And there is indeed a large contingent from southwest Germany living in the capital.
Removed from their familiar settings, their commonalities emerge – such as a fondness for the epicurean delights. And the rest of Berlin benefits from it. There's now a good Swabian restaurant in almost every district, with fine Baden wine to wash it down.
For eat! berlin, it seemed obvious that a marvelous evening of Baden-Württemberg specialties was ripe for the picking. The venue of choice was obvious. The Baden-Württemberg Representation to the Federal Government is located right next to Tiergarten. The building itself is an interesting piece of architecture, not least because it seems tailor-made for hosting events featuring food and drink.
One of the youngest german chefs awarded with a Michelin star, Nicolai Wiedmer, is a native from Baden. He trained as chef with top chef Tanja Grandits in the two star Restaurant Stucki in Basel. Early on she recognized his potencial and is still his mentor.
"Young, creative and a bit bold", thats how the 25 year old calls his dishes, combining unusual ingredients and ways of preparation, such as beef fillet with miso froth, tataki from salmon with watermelon or smoked egg yolk with duck consommé. This very evening him and his team will take their guests onto a flavourful journey.
The food will be accompanied by two very fine state's winemakers. Hans Hengerer from Weingut Kistenmacher-Hengerer is a founding member of the "Junges Schwaben" association. At his estate near Heilbronn he produces impressively expressive Rieslings and aromatic Pinot Noirs, as well as a fantastic red "Lemberger III" and the "Eselsberg Spätburgunder," a barrel-aged Pinot Noir that won the hearts and minds of the strict Gault&Millau testers. He'll be joined by Fritz Keller from Weingut Franz Keller Schwarzer Adler (VDP), one of Baden's most renowned producers. His signature terroir-driven Pinot Gris and Pinot Noir are perpetually coveted by connoisseurs. And if the food and drink aren't enough to convince you that Baden and Württemberg fit together wonderfully, we'll let a different type of talent have the final word on the matter.
RadioEins announcer Christoph Azone is a native son of Baden and will moderate the evening – perhaps even in High German.
Tu. 27.2.

Multi-course menu

with accompanying wines 

Landesvertretung Baden-Württemberg

Tiergartenstraße 15 | 10785 Berlin

Admission: 6:30 pm | Start: 7:00 pm

149,-