PRIMORDIAL FORCE

This post is also available in: German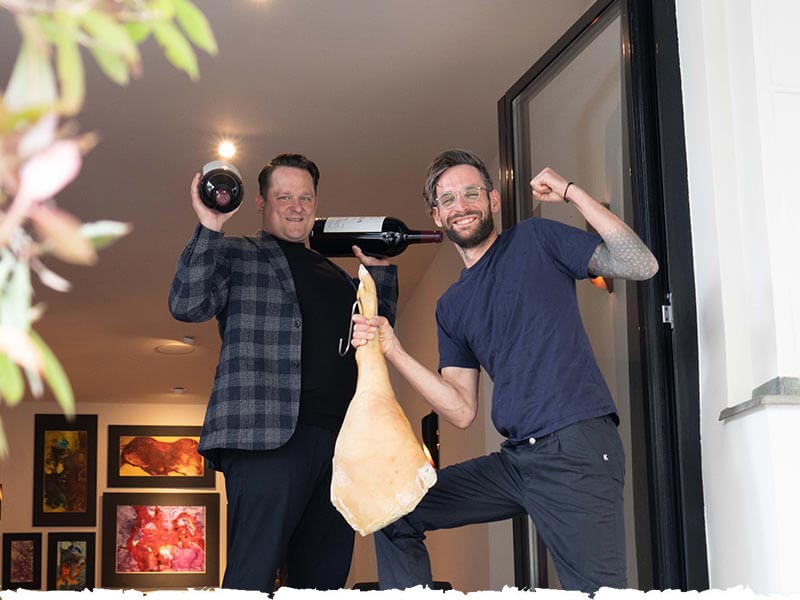 Andre Macionga & Sebastian Leyer
"Man is and remains part of the whole, of the universe, of the primordial substance, of the primordial force" – this quote by Heraclitus is something we should remind ourselves of more often. It somehow makes us humbler.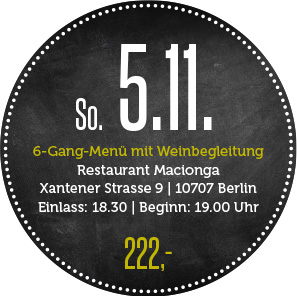 The start of restaurant Macionga in Charlottenburg was by no means modest or humble. The highly talented sommelier and wine cuveteer André Macionga, a long-time sommelier at Restaurant Tim Raue in Kreuzberg, opened a wonderful temple of hedonism at the beginning of this year. The place became a true primal force when the head chef was announced: Sebastian Leyer has already cooked in many highly decorated restaurants in Berlin. From Pauly Saal, which he crucially shaped into what it is today, to Le Faubourg.
A great start so far. But André Macionga wouldn't be André Macionga if he didn't go one step further for eat! berlin and let the elemental power grow into elemental force. The VDP.Estate Schnaitmann (Württemberg), Sauer (Franconia), and Kaufmann (Rheingau) will join him for this evening, and now hold on tight. With all three he realised his own cuvées and they are à la bonne heur! All we can say is: The evening will be banging. The Big Bang so to say.
Sun. 5.11.
6-course-menu with accompaniment wine
Restaurant Macionga
Xantener Strasse 9 | 10707 Berlin
Admission: 6.30 pm | Start: 7.00 pm
222,-