PIER FOR FOUR

This post is also available in: German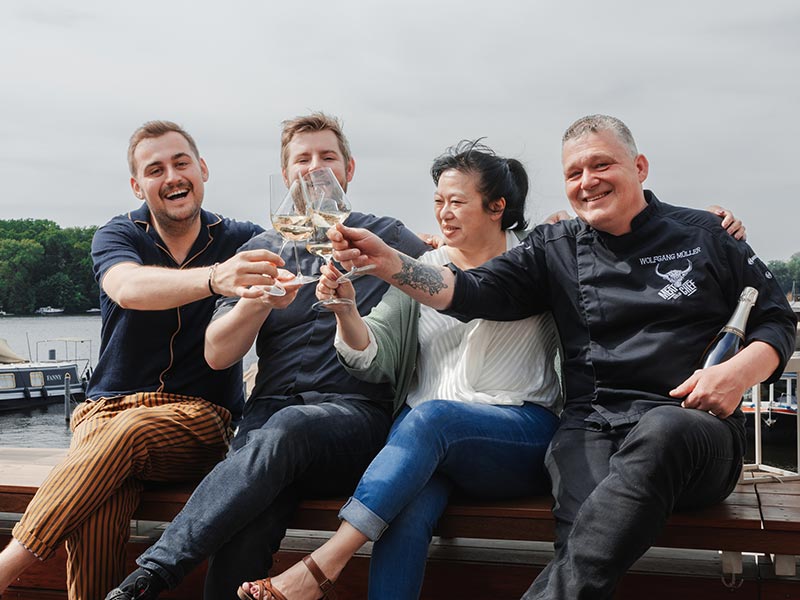 Mathias Brandweiner, Frederick Grieb, Helen Mol, Wolfgang Müller Hafenkueche © pctrbrln.com
This evening at Hafenküche on Rummelsburg Bay is about four people who are connected by an intimate and decades- long friendship and by high standards of excellence. Let's start with Helen Mol: she is a terrific sommelière and even has the WSET Level 3 Diploma for sake. Helen has international experience, having worked in New Zealand, Switzerland, and France. In Berlin, she has been in many very prestigious restaurants such as Horvath, Rutz and Pauly Saal.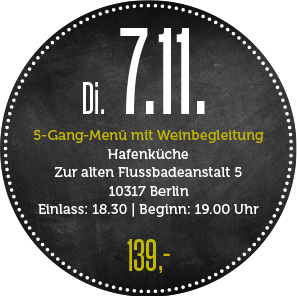 The second wine person is Mathias Brandweiner, host and co-owner of Hafenküche, a successful sommelier. He previously worked at the Ritz-Carlton, Waldorf-Astoria, Bulgari Hotel & Residence, and is "Host of the Year 2019". Chef and co-owner of Hafenküche Frederik Grieb was head chef at Pots, Ritz-Carlton, sous chef for Dieter Müller, and worked at the 3-star restaurant La Vie and at Ophelia in Constance.
Cooking alongside him this evening is the great Wolfgang Müller. As Sousand head chef of Imperial at Schlosshotel Bühlerhöhe he earned two Michelin stars. Helen will choose the wines to accompany Frederik's two courses, Mathias is to accompany Wolfgang's three dishes. Both will mainly use VDP.vintners.
Tue. 7.11.
5-course-menu with accompaniment wine
Hafenküche
Zur alten Flussbadeanstalt 5 | 10317 Berlin
Admission: 6.30 pm | Start: 7 pm
139,-