This post is also available in: German
SWISS LUXURY COMES TO BERLIN
Saturday, March 4, 2017, 7 pm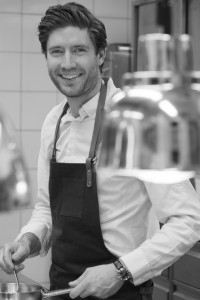 So, at what point does mere opulence cross over into pure, unadulterated luxury? When you start seeing gilded faucets? Not so much, especially when they leak and the dripping keeps you up at night. If you want to experience true, authentic luxury, then you'll need to spend a few days at the Tannenhof in St. Anton on the Arlberg. The establishment has no rooms, just suites, each with a real wood fireplace. Every detail, however minute, has been given the most careful of consideration. There are just 8 suites, with 2 luxury limousines stationed in front of the house to bring guests wherever they wish to go. A 15 m pool with an infinite lap swimming function, a lovely sauna – it's simply all there. For us at the eat! berlin festival, however, the key attraction is of course the hotel's restaurant. Hotel Director Axel Bach scored a sensational coup: He successfully recruited ultra-talented sous-chef James Baron away from Andreas Caminada (4 toques, 3 stars) to serve as his hotel's chef de cuisine.
On the hotel's website we read: "In the kitchen, James Baron stands for a team marked by discipline, consistency and creativity. All paired with a positive and healthy working environment. "We work closely together to enhance the experience for every guest in our hotel." James Baron likes to quote a story that he heard from Hermès Chef Axel Dumas: "In Medieval times masonry was an important job. One day, someone asked the stonemasons what they did. The first one said: "I hit rocks." The second one said: "I earn my keep." And the third said: "I'm building a cathedral." The third man received the promotion, because he believed in his work."
In its first year, James Baron's Tannenhof earned 3 toques. The sights are set very clearly on the fourth.
We achieved a coup of our own by getting Baron to agree to join us in the wine bar "das Schwein." Another top talent from the Berlin restaurant scene, Christopfer Kümper 2 toques, mans the kitchen here. He learned his craft at a cafeteria, but managed to get ahead after catching the eye of Dieter Müller 4 toques and Nils Henkel 4 toques. He then worked for Daniel Boulud in New York and André Chiang in Singapore. Kümper is a promising talent and a terrific symbol for the incredible potential in the kitchens of Berlin. Fascinating to see what he'll set his mind to!
The evening has already turned some heads in the industry. Anyone who ever took a holiday in St. Anton and stood before the doors to the Tannenhof, anyone who ever ate the handicraft of Caminada in Switzerland or marveled at Boulud in New York now wants a seat at "das Schwein." But be forewarned: there are only 35 spots available.
6 course menu including wine pairing
open doors 6.30 pm, start 7 pm
Tickets: 189,00€ 
Weinbar Schwein, Elisabethkirchstraße 2, 10115 Berlin