This post is also available in: German
2 STARS OVER SICILY
Friday, March 3, 2017, 7 pm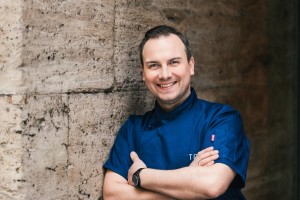 Restaurant Tim Raue is known for its Asian-inspired cuisine, but for eat! berlin the city's native son and star chef is excited to bring a dash of Sicilian sun into his Kreuzberg establishment.
The restaurant on Rudi-Dutschke-Straße will forever hold a special place in the heart of Tim Raue XXXX, as that's where he made his breakthrough. With the help of business partner Marie-Anne Raue, the two opened the restaurant in 2010, where they quickly gathered two Michelin stars and spot 34 on the list of "The World's 50 Best Restaurants." The expansion of the Raue realm soon seemed unstoppable. Almost every year the high-flier opens a new restaurant bearing his name and menus of his design; each one invariably goes on to prove itself of impeccably high quality.
In 2013, Sra Bua by Tim Raue in the Kempinski Hotel Adlon Berlin was rated as the "New Opening of the Year" by the "Aral Schlemmer Atlas." Mr. Raue himself was awarded "Restaurateur of the Year" in 2014 at a ceremony held in LSP.
When he needs relaxation, the 42 year old travels to his second home in Sicily. There, where lemons, oranges and hollyhocks blossom in the ashes of Etna with unbelievable splendor, the Berlin-born chef tanks up on energy and inspiration.
For eat! berlin, he is inviting his guests to come on a six-course culinary journey entitled "un Modicano a Berlino." He'll be talking about his island meanderings, starting from late Baroque Modica, where Greek, Roman and Arab invaders each left their marks.
The menu will open with a typical Sicilian caponata modicana with steamed vegetables together with tuna, calamari and clams and go on to cover almost the entire range of island delicacies: from red grouper with fennel and orange to Mazzara shrimp and artichokes and on to the red pepperoni peppers that are a hallmark of Sicily. In many cases the island's cooks love pushing the envelope when it comes to contrasting sweet and savory, and Raue's menu will feature things like pork with sugo from Datterini tomatoes with cinnamon, brown sugar and peperoncini rosso.
Dessert lovers can look forward to a cassata "caffe sicilia," one of the famous sweet dishes celebrated throughout southern Italy — naturally interpreted through the star chef's own prism.
The menu will be accompanied by top wines discovered by Raue during his trips to the island. The "Tenuta delle Terre Nere" winegrowing estate is one such jewel, located halfway up the north side of Etna (at almost 1000 m of elevation). Another estate, "C&S Biondi," is also close-by and is one of the vanguard of new Sicilian winemakers whose products are rightfully demanding the attention of the world's wine cognoscenti.
6 course menu including wine pairing
open doors 6.30 pm, start 7 pm
Tickets: 288,00€
TIM RAUE Restaurant, Rudi-Dutschke-Straße 2, 10969 Berlin