Pâtisserie Class with Gabi Taubenheim
This post is also available in: German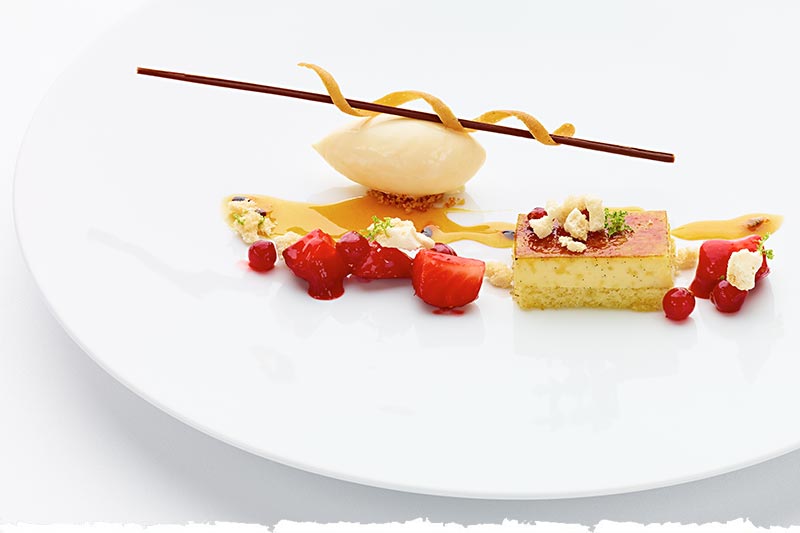 The queen of desserts reveals her secrets
For many gourmets, the culmination of any fine meal is the dessert. Their enthusiasm, however, is rarely shared by executive chefs. Desserts are just too demanding and intricate to make, requiring not just talent, but also tremendous precision. To their great relief, fine dining directors know they can rely on their pâtissier – or even more likely, the pâtissière, as a surprising number of women have claimed this foothold in the otherwise male-dominated world of high-end kitchens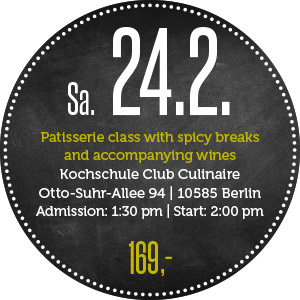 One of the stars of her craft is Gabi Taubenheim, Pâtissière at the famed Munich star restaurant Königshof, where she has worked together with head chef Martin Fauster (three toques) for ten years now. Her dedication and skill helped her establish the pâtisserie as a key component in the gourmet kitchen at Königshof. There are reportedly even guests who come first and foremost for Taubenheim's artisanal desserts, including "Pineapple Ravioli with Frozen Coconut Milk, Tapioca and Crudo Chocolate," "Wild Pan Crêpes with Raspberry Ice Cream" and "Flying Cheesecake." Her creations will be familiar to anyone who loves good food, even if they've never had the pleasure of sitting down at Königshof. Mouthwatering photos of her work are routinely showcased in major gourmet magazines.
Which is why we're quite proud to have convinced Gabi Taubenheim to offer an exclusive pâtisserie class for eat! berlin at Charlottenburg's Club Culinaire. The famed pâtissière will be pulling back the curtain on several tried-and-tested recipes, showing participants the sweetest tricks fresh from the fabled Königshof bakehouse. Concrete technique tips will be leavened with discussion of contrasting aromas and the art of using fine spices to achieve that special little twist to turn classic sweet dishes into outstanding desserts.
The four-and-a-half-hour course will include a sparkling wine reception during which Gabi Taubenheim will present the desserts. Several of the recipes are admittedly calorie-indulgent but unequivocally delicious: She'll show how to make a Cake Pop Rose as a sweet, customizable gift idea, lay out Valrhona Chocolate with fine pomegranate foam, and serve up iced coffee with a spiced whipped cream topper and granité as well as "Gabi's Topfenschmarrn with Soaked Blood Oranges." There will also be two "salty" courses to offer a bit of gustatory contrast and cleansing… all with appropriate wine pairings. And once your indoctrination in the handicraft produces its first set of culinary masterpieces: Don't forget to take a photo before digging in.
Sa. 24.2.

Only 12 

tickets!

Patisserie class with spicy breaks 

and accompanying wines

Kochschule Club Culinaire

Otto-Suhr-Allee 94 | 10585 Berlin

Admission: 1:30 pm | Start: 2:00 pm

169,-