The Nose Knows
This post is also available in: German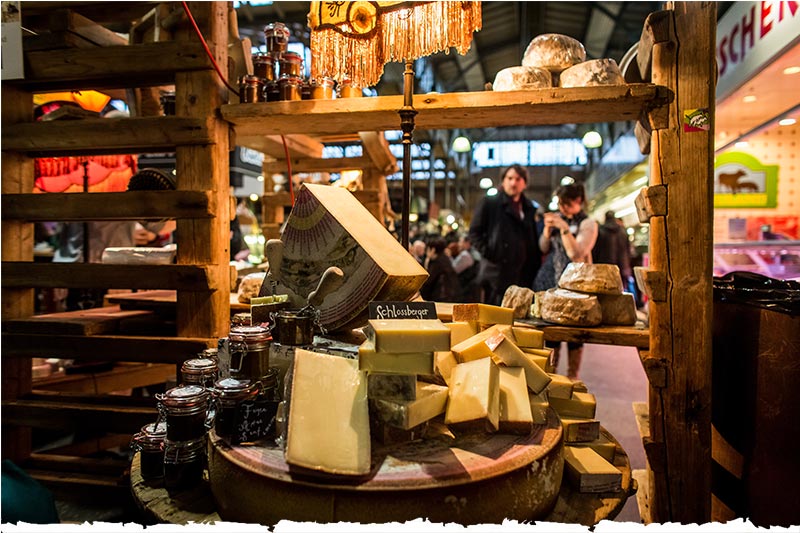 Berlin ,Cheese Days
'

at the 

Arminius

Markthalle
The Arminius-Markthalle in Berlin's Tiergarten district is one of Germany's most captivating gourmet market hall experiences – and has of late developed into a favorite for wine aficionados as well. A growing number of fans from Germany and beyond have come to consider the historical building as one of the capital's burgeoning culinary hot spots. On this weekend in February the hall will once again be filled with Michaela Freier and Samuel Zach's selection of top international frommeliers, ripening experts, cheese producers, winemakers and vendors.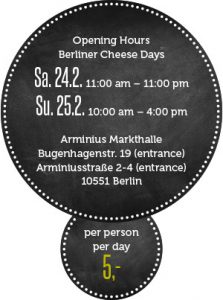 These eat! berlin Cheese Days will be a "curated pleasure," meaning that we'll be recommending a number of not-to-be-missed items. Try cheese plates with selected varieties from throughout Europe, from mild French Brie and hearty Pecorino from Italy to rich mountain cheese from Switzerland or the Allgäu. Our selections will also of course include suitable vino accompaniments from various European wine regions. Those willing to open their mind and taste buds may well discover new favorite cheeses and wines to bring home.
As in years past, the Markthalle's stands – from the Alsatian restaurant and the trattoria to Austrian-themed Beisl – will have exclusive Cheese Day menus in store. It's the perfect opportunity to eat your way through food from around the world at this Moabit institution.
On both days visitors to the exclusive eat! berlin zone can also enjoy brunch to live music, featuring an extensive range of cheeses from our exhibitors. The buffet will also contain warm and cold dishes from the farm and fish counters, three kinds of cheese spätzle, fruit, muesli and salad, sausage specialties and smoked salmon, omelets, cake, coffee, tea and much more. And, of course, bottomless prosecco refills.
There's more to cheese than just savory. Farmer's cheese, quark and curd cheese, implemented in a variety of cakes and desserts, will all be on hand to sweeten your day. There'll also be a cheesecake competition with prizes in two categories, professional and amateur. We look forward to tasting your best, whether it's grandma's secret recipe or a classic New York cake. As long as it's got cheese.
Our heartfelt thanks go to Jörg Vogelsänger, the Minister for Infrastructure and Agriculture in Brandenburg, for serving as the patron for our Berlin Cheese Days, and for joining us at the opening on 24 February.
Children under 12 are free. No other discounts are offered.
Saturday and Sunday: Markthallen Matinée
From 10:00 am to 2:00 pm visitors to the exclusive eat! berlin zone can enjoy a relaxed brunch. Our exhibitors will be providing an exclusive selection of cheeses as part of the extensive brunch offerings. (€34.00 per person, children from 4 to 15 cost €15.00)
For up-to-date information about exhibitors, admission tickets and the Markthallen Brunch, please visit: www.eat-berlin.de
Opening Hours
Berliner Cheese Days

Sa. 24.2. 11:00 am – 11:00 pm

Su. 25.2. 10:00 am – 4:00 pm

Arminius Markthalle

Bugenhagenstr. 19 (entrance)

Arminiusstraße 2-4 (entrance)

10551 Berlin

per person, 

per day 

5,-