Painting a Rosy Picture
This post is also available in: German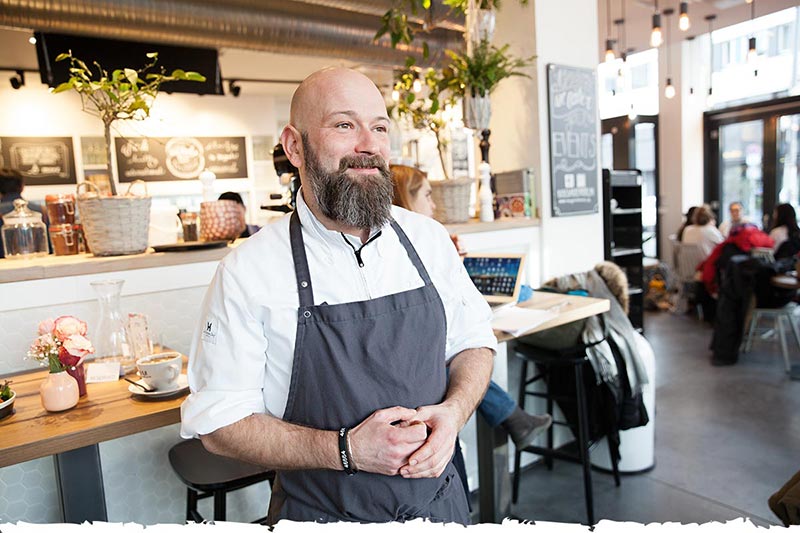 International 
Fine Dining Breakfast Menu in the Rose Garden
It's hard to underestimate just how sacred breakfast is to a true Berliner. There's not a guidebook on the market that fails to mention just how much the German capital, more than any other metropolis in the world, loves this specific meal.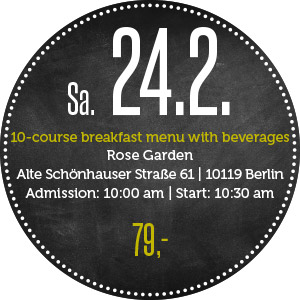 We at eat! berlin acknowledge that it's time to address this topic… and not, as sadly too often is the case, with an-other brunch buffet stocked with meat products from discount supermarkets. We want a breakfast menu of champions. What better partner than Danijel Kresovic? You might know this world-class chef from the Swissôtel, where he seemingly effortlessly earned two toques, or from the restaurant Schlosshotel Grunewald, where he earned them again. At the Rose Garden in Berlin Mitte, Kresovic and his team will be gracing the tables with a fantastic 10-course breakfast menu. The team at the Rose Garden could hardly be more international: Croatia, Mexico, Spain, Japan and many other countries are represented. Draw-ing on this diverse base, Kresovic will guide us on a fascinating journey through various breakfast cultures from around the world. vvv
Love and health – that's the philosophy at the Rose Garden. Rose stands for a love of the product, while the garden represents the freshness of the ingredients. Kresovic loves to create unusual and sensual dishes with ingredients drawn from around the world. Many are vegetarian or vegan. When working behind the stove, he's not afraid to let his guests see where the magic is made. The open kitchen concept provides a free view of his labors. Originally hailing from Croatia, Kresovic has always been a champion of the freshest and lightest cuisine, with the terrace of the Swissôtel quickly turned into a wonderful herb garden during his time there. His preference for all things green and fresh will almost certainly be in evidence in one or more of the breakfast courses. But he'll also pay his due to the meat and fish lovers in the Fine Dining breakfast crowd, with a lovely glass of sparkling wine to wash it down. What better start to the weekend could there possibly be?
Our media partner "Tagesspiegel" has already declared that they've got a small surprise in store on this morning. After all, a good daily is an essential part of any fine breakfast.
Sa. 24.2.

10-course breakfast menu with beverages

Rose Garden

Alte Schönhauser Straße 61 | 10119 Berlin

Admission: 10:00 am | Start: 10:30 am

79,-