Moulin Rouge & Moules frites
This post is also available in: German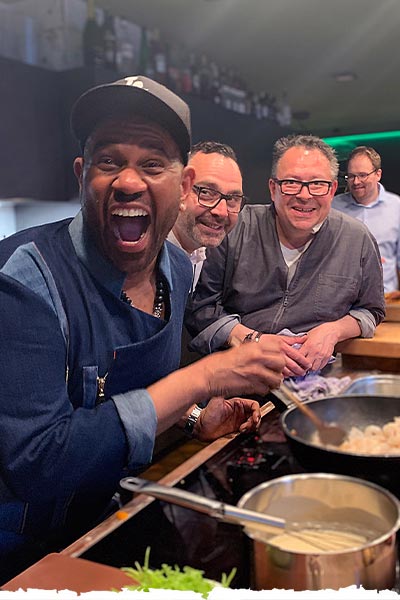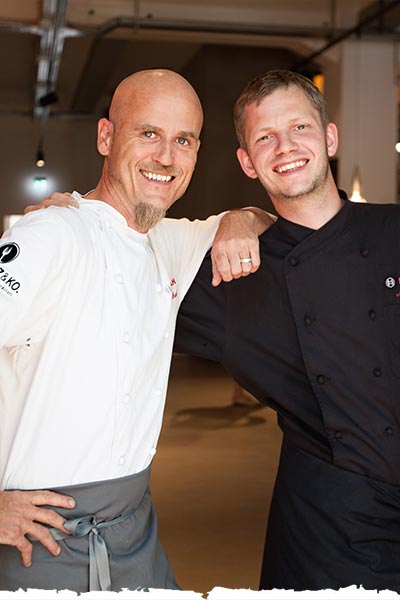 Ralf Zacherl & Marcel Woest
What do Joe Cocker, Tracy Chapman, Tina Turner and Jessye Norman have in common? They all had the pleasure of performing with David E. Moore. His audience included queens, heads of state, ambassadors, and the Pope. The award-winning vocalist Moore is also a spice entrepreneur (Moore than Spice) and cookbook author (The Art of Breaking Bread).
Moore's cuisine is very much inspired by his great-great-grandmother, who lived in New Orleans. The location is Schmidt Z&KO. Schmidt stands for the owners Anja and Carsten Schmidt, who are responsible for the wine pairing. The Z stands for Ralf Zacherl, he was involved in the extremely successful TV series "Die Kochprofis" where he got to know Mario Kotaska, another top culinary artist in the Schmidt Z&KO line-up, and of course the KO.
This evening, Schmidt Z&KO will become Schmidt Z&MO, there will be wonderful cooking and spicing and it will all be inspired by the musical Moulin rouge.
FR. 3.11.
4-course-menu with accompanying wines and singing
Schmidt Z&KO
Rheinstraße 45–46 | 12161 Berlin
Admission: 6 pm | Start: 6.30 pm
159,-