HEINZ BECK COMES TO TOWN
This post is also available in: German
GERMANY'S CULINARY AMBASSADOR BACK IN BERLIN
Monday, February 27, 2017, 7 pm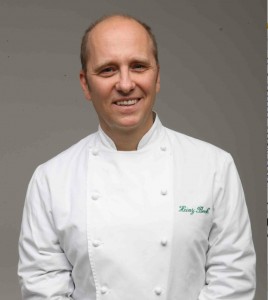 Catholics make pilgrimages to Rome to seek an audience with the Pope. Tough ticket to get. While the German who held that title recently stepped back from the limelight, culinary fans are still making pilgrimages to Rome for another German. Their goal: securing a table at "La Pergola" in the Waldorf-Astoria Hotel. Only the truly lucky few are granted a (selfie) audience with Heinz Beck, the restaurant's 3-star chef. It didn't used to be that way. Beck once reigned in Berlin as executive chef at Harlekin Restaurant at the Grand Hotel Esplanade, a venue that served as an incubator to future greats Sommelier Lars Rutz and star chef Marco Müller. Heinz Beck wasn't there for long, but his work in Berlin reverberated long after he left.
Heinz Beck was born in Ludwigshafen and grew up as the son of a jeweler in Lower Bavaria. He was educated in Bad Füssig, then worked for Feinkost Käfer and Heinz Winkler. He would serve as a sous-chef in Heinz Winkler's two-star "Tristan" on Mallorca, among other stops. Then came his time in Berlin, and then he took over "La Pergola" restaurant without speaking a word of Italian. That was 1994. In 2001 it earned two stars from the Guide Michelin; by 2005 it was three. His first cookbook, "Heinz Beck," was proclaimed the best cookbook in the world in 2005. As such, Heinz Beck is the best German chef working outside the country. In 2003 he was awarded the title of "Best Executive Chef in Italy," an incredible feat for a German.
Heinz Beck doesn't have much time. He tours the globe, and is considered one of the big "players" on the international culinary stage. His consulting firm advises gastronomes the world over. To secure his participation, the festival director had to fly extra to Rome, enjoy an indescribably fine meal in "La Pergola" and then, over Cognac, convince him to sign on. It's hard being the festival director sometimes.
Both parties agreed the festival evening should involve a small brunch. When you have a grand chef like this one, you don't need to present him in a hall of marble beneath the glare of chandeliers. Which made it all the more joyous that the "Bosco Verde" in Grunewald was immediately willing and overjoyed to offer this star a stage upon which to perform. The extraordinarily well-run "Italian joint" has a terrific wine list and is the kind of place you wish you had in your neighborhood: unpretentious, approachable and extremely oriented toward product and guests.
Dear Herr Beck! It's a great honor and pleasure to have you in Berlin: Your "Fragotelli alla carbonara" will be a highlight of our festival.
5 course menu including wine pairing
open doors 6.30 pm, start 7 pm
Tickets: 169,00€
Bosco Verde Restaurant, Menzelstraße 1, 14193 Berlin