This post is also available in: German
TO WEST BERLIN, WITH EUROPE'S FASTEST ELEVATOR
Monday, February 27, 2017, 7 pm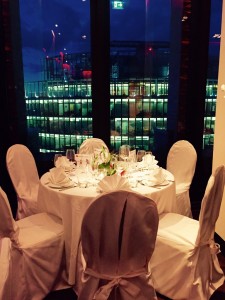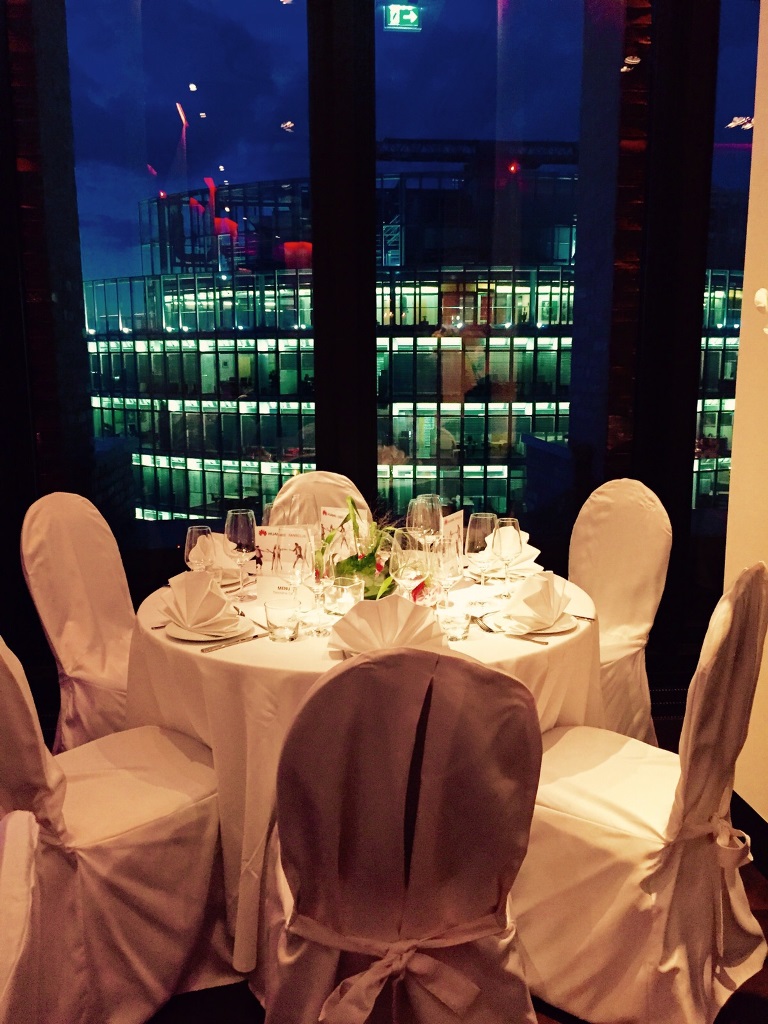 When dictatorships are overthrown, there's partying on the death strips and dancing on the border walls. We Berliners know this better than most and ought rightly raise our glass to toast our good fortune every day. The spot where the imposing Potsdamer Platz now stands was once a notably nasty no man's land. When post-Wall construction first began on what would become the modern building complex, Berliners cursed the inconvenience. "Never-ending," was how they described it. "An eternity," and not a day less. Then again, in light of the unfathomably long Opera renovation and BER airport construction, it no longer looks so bad.
Our yearning for iconic East and West Berlin sites endures, even as our human icons from the Divided City have faded away. And so it is time for a refresher, to be delivered by three of the most important culinary minds of the former West, now invited to Potsdamer Platz.

Karl Wannemacher is celebrating 35 years of his "Alt Luxemburg" restaurant on Windscheidstraße. No other of Berlin's top chefs has ever celebrated such an anniversary in a single restaurant, and yet there Wannemacher is, day after day, night after night, creating painstakingly detailed dishes in step with the contemporary spirit.  The eat! berlin team paid homage to his work back in 2013, bestowing the star chef with an achievement award for "Promoter of Gourmet Culture."
Franz Raneburger is another legend of Berlin haute cuisine. He was the force behind the "Bamberger Reiter," which earned its star and xxx over the course of ten years. Today he runs "Edelweiss Catering," which has tickled the palates of many of the world's most recognizable people. No matter which party is in power in which country — almost all of the movers and shakers will at some point have eaten Franz's handiwork.
Both Wannemacher and Raneburger should be described as courageous within the framework of Wall-era Berlin's fine dining scene. And yet what beats courage? Madness. Namely the madness of
Thomas Kurt, who dared to open his "Apricot" in 80s Kreuzberg. Ask any true West Berliner and they'll know this enclave of gourmet life in a district better known for wild nights than exquisite ones. It's as if there were only two types of West Berliners back then: those who could afford to reserve a table, and those who couldn't and stood, nose pressed against the plate glass, looking in on the dimly lit dining room where Thomas served fine French cuisine with a Baden flair. Throughout his 13 years at e.t.a. Hoffmann we've been keeping tabs on this charming culinary genius.
On this evening, you'll find all three of these chefs at the final stop on Europe's fastest elevator. On the 24th floor of the Kollhoff Towers, West Berliner Julius Hauptmann runs a panorama cafe and sun deck. A lovely spot with a wonderful view over Berlin. All of Berlin? Not this time. For whatever reason, the view only opens up to the west. The sight lines into East Berlin are blocked by buildings. Did architect Hans Kollhoff have a premonition? Can't say for sure. What we do know: this location is perfect for our event.
6 course menu including wine pairing
open doors 6.30 pm, start 7 pm
Tickets: 139,00€
Panoramapunkt in den  Potsdamer Platz Arkaden, Potsdamer Platz 1, 10785 Berlin