This post is also available in: German
CRUISING WITH RALF BOS
Thursday, March 2, 2017, 6 pm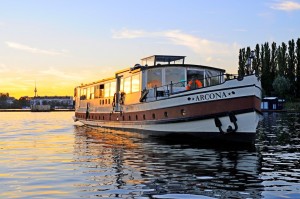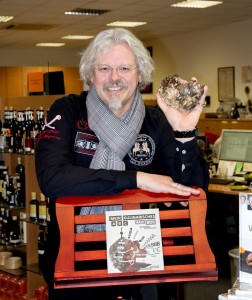 In the dictionary under "self-made man," it would surprise no one to find a picture of Ralf Bos. Opting for vocational schooling instead of the university track, Bos first trained as a cook, then as a restaurant management specialist. He went on to serve as tour manager for singer Ralph Siegel and eventually founded an electronics import company that he then sold for a profit. His next and perhaps most renowned stroke of inspiration was Bos Food GmbH, which he has developed into one of the most important gourmet food merchants in all of Germany. The company's success has everything to do with Ralf Bos the man, not least because of his unbelievable pool of knowledge in the field that he gladly passes on to anyone willing to hear or read his words. A true ambassador in all matters related to fine indulgence, Ralf is an amazingly good entertainer and font of knowledge.
When Kirk Schoormann, in his capacity as managing director of the M. S. Schiffskontor, heard that Ralf was going to be returning to eat! berlin, he immediately offered us use of the "Arcona," his finest craft.
This ship is his firm's crown jewel, and we are giddy about this extraordinary environment for Ralf Bos to present his gourmet delights.
Over the course of a 2-hour cruise along the Spree river, we'll sample an assortment of 'no-kitchen-needed' treats. After opening with caviar and a spot of champagne, Ralf will unveil a spread of internationally prized oysters paired with a luscious sweet wine. The famous gourmet procurer will then unpack some of his deeper insights through anecdotes from his many scouting missions around the world. We're all curious to see just what an array of epicurean dainties Ralf can conjure up without needing a kitchen.
Our craft will then dock near the Rio Grande restaurant where we will enjoy a casserole prepared with Périgord truffles and a dessert from the restaurant's legendary kitchen.
Despite what the name suggests, Rio Grande is in fact an Austrian restaurant. Its owners Edith Berlinger and Dietmar Schweitzer are known not just for fine cuisine, but also their impeccable wine list — and ideal location on the Spree. To the left you look out onto the television tower, to the right the Oberbaumbrücke, straight ahead at the Arena at Ostbahnhof (and a Metro-Markt, if that's your bag).
We'll let the evening come to a lovely and lively conclusion while listening to sailor's yarns. Ahoy!
caviar & Co. on board, main dish & dessert in the restaurant including champagner and wine
open doors 5.30 pm, start 6 pm
Tickets: 179,00€
Schiff Arcona, Anlegestelle Oberbaumbrücke an der Western Comfort Floating Lounge, Gröbenufer, 10997 Berlin