This post is also available in: German
HISTORIC DELICACIES AND DRINKING TRADITIONS
Thursday, March 2, 2017, 7 pm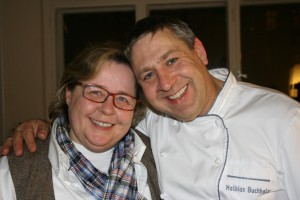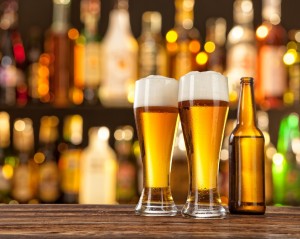 They've become a bit of an endangered species, those old-fashioned Berlin bars where thirsty souls of all ilk congregate for a delicious beer. Vogt's Bierexpress on Mehringdamm, right next to the city's most famous Currywurst stand, is one of hold-outs: always welcoming, unconventional and full of levity. Its peculiar charm and status can largely be attributed to its gracious proprietress Regina Vogt. 30 years ago she took over the Kreuzberg bar from her father, and since then has been a beacon in the vanishing world of real innkeeping and brewing culture.
For our gourmet festival she's recruited her brother, Michelin-star chef Matthias Buchholz, to return to the family's premises. You'll never meet another duo quite like them. At eat! berlin 2016 the affable pair of siblings earned the title of "Best Event." If you missed it last time, here's your second chance with, of course, a few new twists!
After training as a cook, Matthias Buchholz moved into the gourmet sphere. He soon cut a swath through the Berlin restaurant landscape. In 1999 he became executive chef at "First Floor" in the Hotel Palace, where he soon earned a Michelin star. In the decade+ that has followed he's collected a trophy case of other awards as well: 18 of 20 Gault Millau points, including the Gault Millau title of "Chef of the Year 2001", 2x Berlin Master Chef title, best-possible five toques from the Großer Hotel & Restaurant Guide, and many more. Five years ago he set off on a different path, opening the Restaurant Buchholz Gutshof Britz. This represented a return to his roots, with an uncomplicated, straightforward country estate kitchen of the finest kind. "Memories of mama's cooking, but lighter," is Buchholz's motto.
At Vogt's Bierexpress, he'll be setting out a four-course menu with the motto "Berlin a century ago." Beverages will also be served using old Berlin recipes, many of which have slipped well out of popular memory. Regina Vogt is willing to give one sneak peek: "Berliner Weiße mit Strippe, for example."  In the 1920s Berliner Weiße, now familiar to tourists as the unusual beer made with red or green syrup, was actually served with caraway schnapps. On the festival evening, Regina Vogt will be pouring her Weiße with the new organic schnapps from Gilka. The "Original Berliner Kaiser-Kümmel" is produced through the double distillation of caraway seeds on an organic farm. Other surprises will include new and fun creations, for example, from the workshop of "Fräulein Brauer." The small, upscale Berlin brew-works releases a new beer on to the market each month — always limited, always handmade and always with a newly designed label. At Vogt's Bierexpress you can sometimes even find it on tap.
Rest assured: this will be a cozy, one-of-a-kind affair.
4 course menu including beer pairing
open doors 6.30 pm, start 7 pm
Tickets: 69,00€
 Vogt`s Bierexpress, Mehringdamm 32/34, 10961 Berlin