This post is also available in: German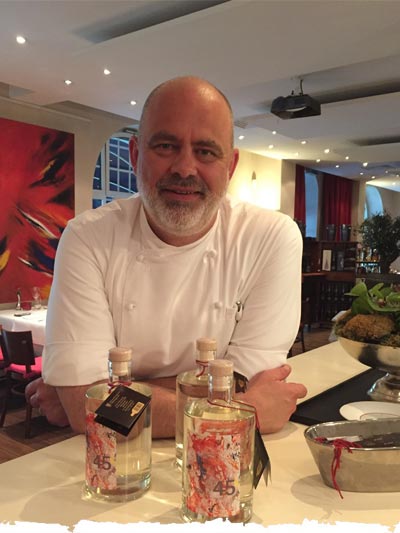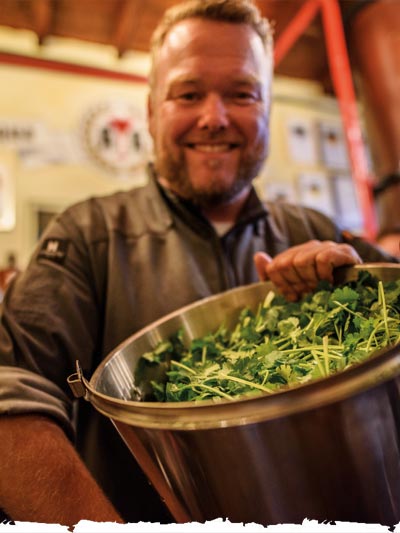 Unusual aromas abound in gin menu from star chefs Markus Semmler and Sascha Stemberg
Star chef Markus Semmler (two toques) viewed it almost as a point of honor when he was commissioned by the distillers at Klostergutes Wöltingerode to collaborate on a custom gin. Working in close coordination with the spirit makers from the Harz region of Germany, he went on the prowl for the perfect recipe: "Creating a gin in its most original form, that was my guiding light," Semmler says. The noble gin bearing the "Mundus 45" label was produced in a limited batch of just 1000 bottles. The ingredients include classic juniper berries, pomace from Kellerei Cleebronn-Gülgingen, a Wurttemberg winery, with a neutral spirit from the Kloster's own distillery. The resulting gin is richly aromatic and has earned praise aplenty from the industry press.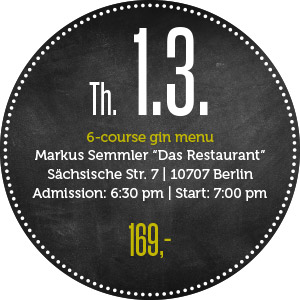 This eat! berlin evening is all about gin. Semmler has invited world-class chef and major gin fan Sascha Stemberg (three toques) to travel to Berlin from his Haus Stemberg in Velbert (Rhineland). Stemberg's own restaurant, Anno 1864, has also distilled its own gin together with the Heinrich Habbel distillery: "It's based on juniper with sloe. The gin goes through four distilling runs, making it dry with tremendous fruit, including a bit of lime and a healthy dose of fresh cilantro," Stemberg gushes.
Two award-winning chefs, two lovely gins: What could possibly make more sense than pitting these two different gin concepts against one other?
Things will kick off with two drinks each using their own gins, with the guests voting on a winner. To keep the intoxicating effects of the alcohol in check, an amuse-gueule will be served: Sascha Stemberg will be passing around "gin-marinated salmon", while Markus Semmler will have "oysters flambé with a gin Bloody Mary." Each chef will then present three courses, served in alternating order and all centered around drawing out the aromas of the gin.
Gin as the focus of haute cuisine? This rehabilitation has been long overdue: The fine distilled product has for years languished in an undeserved gastronomical purgatory. Yet good gins are pretty much ruined by simply pouring tonic atop them. The recent revival of 'juniper brandy' by passionate, creative distillers throughout Europe, and their intense promotion by the honorable guild of barkeepers, has helped put gin back "onto the tips of all tongues." As with whiskey and rum, there are now dozens of fine gins available, covering many different taste profiles and aromas. The gin menu will give you the chance to discover your own personal favorite.
Th. 1.3.
6-course gin menu
Markus Semmler "Das Restaurant"
Sächsische Str. 7 | 10707 Berlin
Admission: 6:30 pm | Start: 7:00 pm
169,-