AGED MEAT AND PINOT NOIR
This post is also available in: German
BECKER, SELL AND TIETZ AT FILETSTÜCK
Sunday, February 26, 2017, 6 pm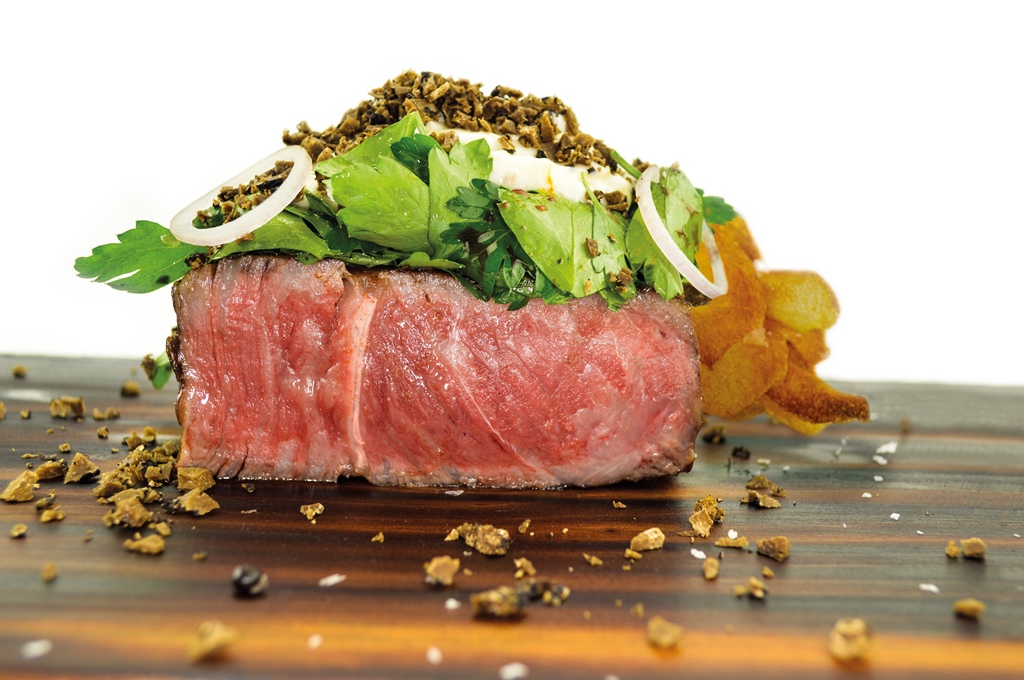 Deftly marbled, dark red and aged to perfection — the raw meats that hang in the glass case at Filetstück are mouthwatering art unto themselves. The "Gourmetstück" branch on Uhlandstraße will play host to an eat! berlin evening dedicated solely to carnivore desires. And as in past years, Executive Chef Stefan Sell has invited two grand guardians of the gourmet to join him. This year's contributors: Gunnar Tietz, meat ambassador at Otto Gourmet, and world-class winemaker Fritz Becker.
Otto Gourmet pioneered marvelous mail-order meat for Germany. Eleven years ago brothers Stephan, Michael and Wolfgang Otto founded their company, literally in their garage. What started as a side project has since developed into one of the most renowned suppliers of superior meat. Nine of Germany's ten three-star chefs have ordered from the family-owned firm.
Among Otto Gourmet's loyal customers in Berlin: Filetstück. Managing Director Matthias Martens himself showed pioneering spirit seven years ago when he opened the first Filetstück in Prenzlauer Berg. His concept for high-quality luxury meats captured the zeitgeist brilliantly. There are now three Filetstück restaurants in Berlin. 2011 saw the opening of Gourmetstück on Uhlandstraße, and a year ago Filetstück Pigalle opened where a nightclub once stood.
The kitchen style at Gourmetstück on Uhlandstraße is perhaps the most nuanced of the three branches. Executive Chef Stefan Sell assumed responsibility for the restaurant in Wilmersdorf in September. Yet he was hardly a new face, having served successfully as sous-chef to his predecessor Sascha Ludwig XXX.
Stefan Sell's five-course meal for 26 February is — shocker! — meat heavy.
The host has graciously ceded planning of the main dish to guest chef Gunnar Tietz. The former sommelier from First Floor in Hotel Palace (Michelin star) switched to Otto Gourmet a year ago. As a meat ambassador, his responsibilities include culinary events. For eat! berlin he's planned a moderated meat tasting. Guests can try various premium cuts at different points in their aging, using the direct comparison to heighten their perception of the fine gustatory differences.
Winemaker Fritz Becker from the Pfalz region is responsible for showing just how well meats match with wine. Especially red wines, such as the Pinot Noir from Weingut Friedrich Becker that is counted among the finest produced anywhere in the land. Gault-Millau has awarded his collection four of five possible grapes. Becker will be presenting bottles from his estate to go with each course, enhancing the meaty pleasures perfectly.
5 course menu including wine pairing
open doors 5.30 pm, start 6 pm
Tickets: 129,00€
Filetstück Charlottenburg-Wilmersdorf, Uhlandstraße 156, 10719 Berlin