1993 and not a bit older
This post is also available in: German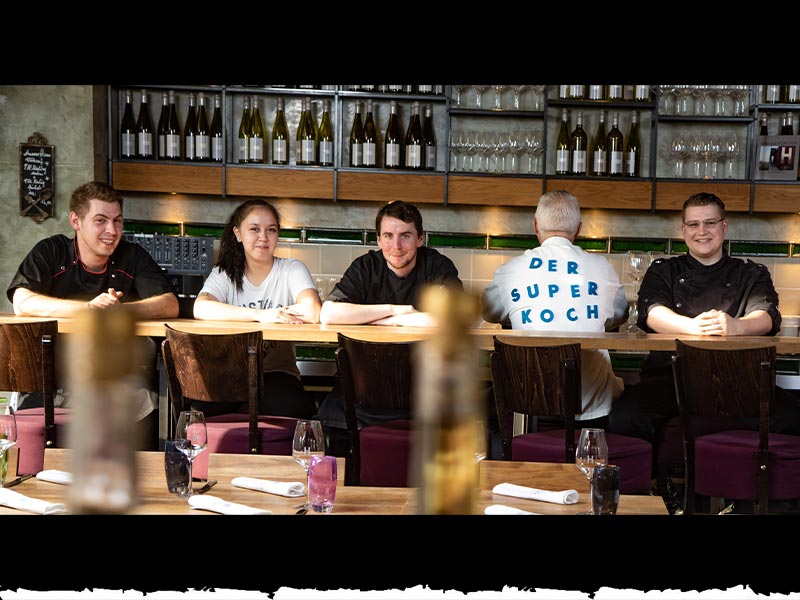 Team Rotisserie Weingrün © Christian Kielmann
Do you remember what you did in 1993? Czechoslovakia became the Czech Republic and Slovakia, Bill Clinton was inaugurated as President, and the new five-digit postcodes were introduced in Germany… If you remember all this, then this is not the right evening for you.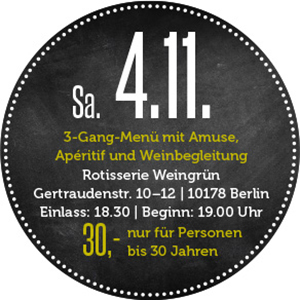 We are very pleased that Herbert Beltle said yes once again to host everyone under 30 for just 30 Euros. If you were born IN or AFTER 1993, i. e. 1993, 1994, 1995, and so on, then you can buy a ticket. If you want to give the ticket as a present, then please ONLY to people who were born IN or AFTER 1993. We'll check ID cards at the entrance and turn away people older than that without any ifs or buts. "Age discrimination!" shouts someone back there? Exactly!
Oh yes, there is one big exception: Herbert Beltle himself. He is already in his mid-30s or so but is allowed to stay all night – provided that he is cooperating. We would like to thank him for the offer because, in times of an energy crisis, inflation, and a survived Corona pandemic, it is not a matter of course that a gastronome can make such an event happen.
Sa. 4.11.
3-course-menu with amuse, apéritif and accompanying wines
Rotisserie Weingrün
Gertraudenstr. 10–12 | 10178 Berlin
Admission: 6.30 pm | Start: 7 pm
30,- (only for people up to 30 years)