劳 A Threesome with Tim, Part 3
This post is also available in: German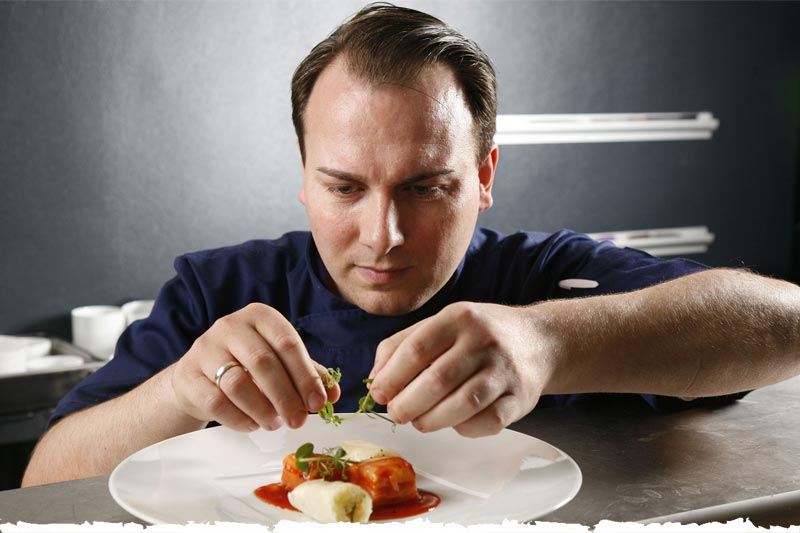 Cantonese and Bordeaux at Restaurant Tim Raue
China meets France and Cantonese cuisine embraces fine Bordeaux: Where else but in the spacious confines of Kreuzberg will you find this kind of encounter between two seemingly incongruous drinking and dining cultures? People from all countries live side by side in this district, mostly peacefully, and definitely with an open mind to the new and unusual.
Two-star chef Tim Raue (four toques) certainly had something like that in mind back in 2010 when he and Marie-Anne Raue opened Restaurant Tim Raue here in this much maligned district. He was well aware of its goods and bads, having grown up here himself under anything but the most refined of circumstances.
For his part, Tim Raue sees the tolerant mindset found throughout Kreuzberg as the foundation of his success. On his many trips to Asia, he perpetually finds new ingredients and aromas that surprise him and inspire his unusual recipes. The restaurateur has also come to detest the frequently heard theory that Asians are ignorant about good wine. "Not once during any of my visits have I ever seen the Chinese put cola in their Bordeaux, as I'd read they like to do.
Quite to the contrary. In the restaurants of Hong Kong, Bordeaux is among the preferred wines of the Chinese."
Drawing on these insights, Tim Raue has created a thrilling culinary "pingpong" for eat! berlin that encompasses luxury dishes from Cantonese and French haute cuisine, to be served with whites and reds from Bordelais. An exclusive eight-course menu is planned, together with the finest products from two countries that love to eat. The menu will include fabled dishes such as Fish Maw and Abalone Soup, a scallop conpoy with "20-year-aged mandarin peels" as well as caviar, sole, lobster and étouffée pigeon.
This unusual exchange between China and France will focus on complementary and contrasting aromas, daring textures, harmonic elements and even a bit of tricking the taste buds. You can be sure it will be fantastical and fantastic – as it always is with Tim Raue.
Fr. 2.3.
8-course menu with accompanying wines
Restaurant Tim Raue
Rudi-Dutschke-Straße 26 | 10969 Berlin
Admission: 6:30 pm | Start: 7:00 pm
444,-